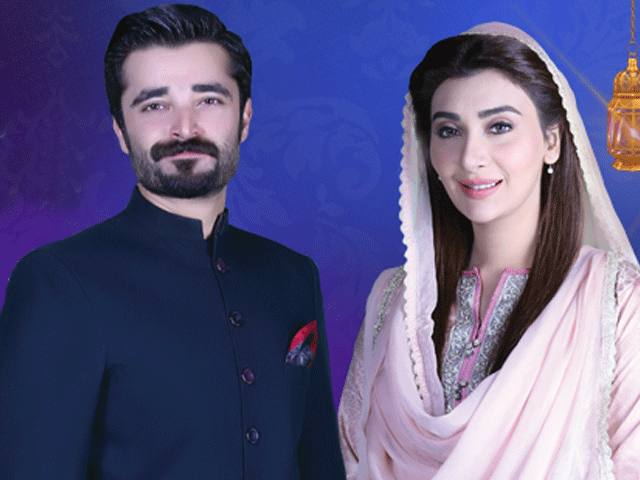 ---
Hamza Ali Abbasi has announced that he will be hosting a Ramazan transmission with his Mann Mayal co-star Ayesha Khan, adding to the ever-growing list of famous personalities who have ventured into the world of Ramazan shows.

Ramazan transmissions in the past have been eventful to say the least, from Aamir Liaquat shoving aam into some poor guy's face, to Fahad Mustafa's intense cake-eating competitions.

While we're anticipating plenty of surprises from the controversial Jawani Phir Nahi Aani star as well, here are five things we don't expect from Hamza Ali Abbasi this Ramazan.


1. Shamelessly flirt with fellow TV hosts

Although we have seen Hamza flirt on screen but we'd like him not to wear his heart on his sleeve like Aamir Liaquat Hussain -- the undisputed king of Ramazan transmissions.

Remember when Aamir Liaquat appeared on Sanam Baloch's show after she attened his Ramzan transmission?


Here's why Hamza Ali Abbasi thinks 'maulvis are better than liberals'

2. Hold a 'Who's the fattest amongst all?' competition

The Pyaray Afzal actor is really big on shaming people publicly but we hope he doesn't pull off a Fahad Mustafa and join the bandwagon of body-shaming.





3. Give away babies on live TV

We have no idea what made Aamir Liaquat give away babies on live television and we really hope that Hamza's sanity remains intact and he opts not to carry out such acts on his show.




4. Ask explicit questions

Nida Yasir and Mani's questions for Mathira on her condom ad during a Ramazan transmission were condom-able, to say the least.


We are sure Hamza will refrain from indulging in crass humour.

5. Mess with angels ( aka Taher Shah)

Things went sour when Taher Shah faced Aamir Liaquat Eye-to-Eye; here's hoping Hamza will welcome the angel with arms wide open


TV host Amir Liaquat warned of possible terror attack by TTP

Can't wait for you to illuminate our TV sets this Ramazan, Hamza.

Oh and we are certainly not expecting this, ahem...




Check out the promo of his Ramazan show:


Have something to add to this story? Share it in the comments. 
COMMENTS (2)
Comments are moderated and generally will be posted if they are on-topic and not abusive.
For more information, please see our Comments FAQ