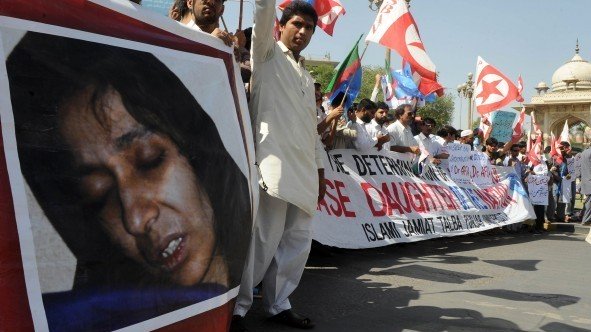 ---
KARACHI: Fauzia Siddiqui, sister of Aafia Siddiqui said that the letter circulating in the media from the Tehrik-e-Taliban is a conspiracy on the part of international agencies to get a sentence for Aafia Siddiqui.





Addressing a press conference at Karachi Press Club here on Wednesday, Fauzia Siddiqui said the Government is giving false hopes but it is not seriously working for the release of the detained Pakistani daughter.

She maintained that international secret agencies were creating links of different incidents occurred at international level with detained Dr Aafia to disgrace the integrity of Pakistan.

All legal experts of the world were criticising the biased decision of American Jury and raising figures over the US justice system, she added. She appealed to the media to verify the news broadcast on the Western media regarding the Aafia Siddiqui as they were exploiting  such news to damage the case.

Fauzia Siddiqui stated that the hearing dates of the Dr Aafia Siddiqui case were to be held on June 28, July 21 and August 16 of 2010 and such conspiracies created by the US agencies are aimed at damaging Aafia's case. She said that sentence for attempt of murder is three-years while she had been in US prison from last seven years.

She appealed to the government to take steps at diplomatic levels for the release of Pakistani daughter from US prison. She said that the decision of sit in would be taken after the court's decision.
COMMENTS (17)
Comments are moderated and generally will be posted if they are on-topic and not abusive.
For more information, please see our Comments FAQ