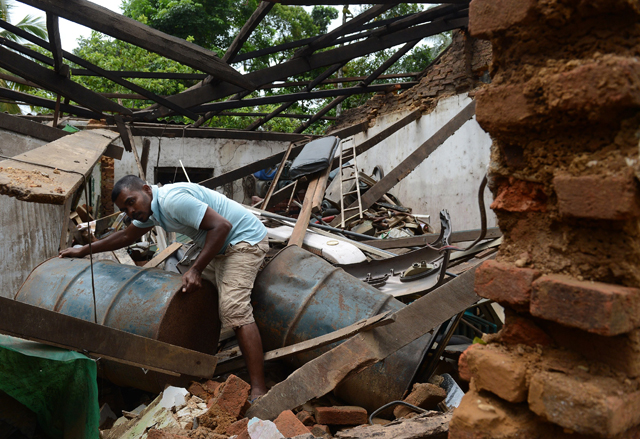 ---
In line with the directive of Prime Minister Nawaz Sharif, rescue and relief operations are being sent to Sri Lanka following the devastating flood and rainfall in Colombo, which claim nearly 100 lives.  A C-130 Aircraft carrying emergency relief items has left for Colombo on Monday.

The Pakistan High Commission in Colombo said the field hospital has operation theatres and X-Ray laboratories, in addition to 500 tarpaulins, 100 tents, 500 mats, 20,000 aqua tabs and 40 electricity generators.

Borrowed from pakistan: Buddha relics on display in Colombo   

Also, 17 Pakistani doctors would be arriving in Sri Lanka for providing health care assistance.

The relief goods are being dispatched by the National Disaster Management Authority (NDMA) in coordination with the Ministry of Foreign Affairs under the transportation arrangements of the Ministry of Defence.

Colombo nabs two Pakistanis, 12 others in major drug bust

"The government and the people of Pakistan stand with the brotherly people of Sri Lanka in this hour of need and will continue to assist in the rehabilitation of those affected by this natural calamity," the Foreign Office said in a statement.

Trade with Sri Lanka: Pakistan to ship $50,000 worth of fans

Colombo faced the heaviest rains in 25 years, triggering landslides that have buried victims in tonnes of mud. More than 400,000 people have suffered losses due the devastating floods and rainfall in Sri Lanka.

Pakistan has expressed solidarity with all those who have suffered losses due to the heavy rains. Both countries have been assisting each other in challenging times, especially in disaster situations.

In the recent years, Pakistan extended its support for the tsunami victims of Koslanda in Sri Lanka. Similarly, the Sri Lankan government supported victims of the deadly earthquake of October 2005 which claimed over 73,000 lives in the northern region and Azad Jammu and Kashmir.

This article originally appeared on The Hindu.
COMMENTS (1)
Comments are moderated and generally will be posted if they are on-topic and not abusive.
For more information, please see our Comments FAQ