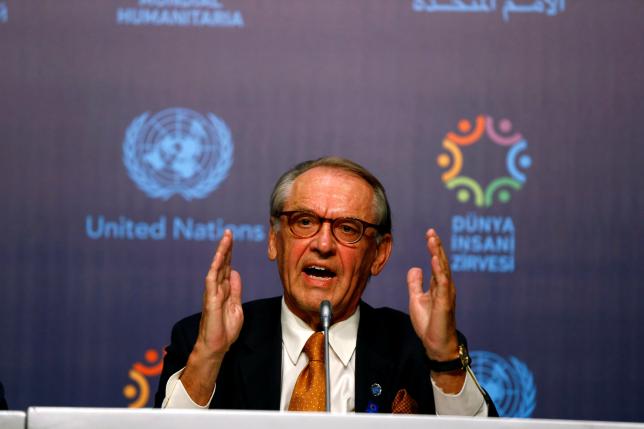 ---
ISTANBUL: World leaders and aid groups meet in Istanbul on Monday for an unprecedented UN-backed humanitarian summit seeking to transform the world's response to crises triggered by conflict and climate change.

The over 60 heads of state and government gathered for the two-day summit convened by UN Secretary General Ban Ki-moon will have to defeat considerable scepticism that the event will turn into a well-intentioned but fruitless talking shop.

Humanitarian Summit – lessons for Pakistan

With some 60 million people displaced around the world and at least 125 million requiring assistance and protection, all participants agree the need for action is more urgent than ever.

Host Turkish President Recep Tayyip Erdogan will also be keen to use the event to emphasise the contributions of his country, which is hosting some 2.7 million refugees from the Syria conflict.

UN officials said ahead of the meeting that the summit represented an unprecedented chance to find a new approach to crises by tackling the root causes of conflict rather than just their bloody aftermath.

"This is a once-in-a-generation opportunity to to set in motion an ambitious and far-reaching agenda to change the way that we alleviate and prevent the suffering of the world's most vulnerable people," UN Under Secretary General for Humanitarian Affairs Stephen O'Brien said.

He said the summit differed from other such events as it was aimed not at winning financial pledges but at finding a comprehensive strategy for dealing with crises.

UN Deputy Secretary General Jan Eliasson echoed the need to tackle the "root causes" of crises emanating from conflict, as well as climate change.

"We spend so much on dealing with the late causes of conflict but very little on prevention," he said.

Eliasson said the summit should also see a "strong call" for respect of international humanitarian law, which has badly decayed with attacks on schools and hospitals in the conflicts in Syria, Afghanistan and Yemen.

As humanitarian needs grow, USAID chief says the world must act

The summit is the result of years of planning but there has been criticism that its actual outcomes could fall well short of its lofty ambitions.

Medical charity Doctors Without Borders (MSF) is boycotting the event, saying it risked being just a "fig leaf" for the world's failure on humanitarian action.

"I regret very much that they came to that decision," said Eliasson.

"One of the main purposes of this conference is our outrage against violations of international humanitarian law," adding he hoped the "convictions they (MSF) stand for" would come out of the meeting.

In a move applauded by Eliasson, dozens of nations taking part in the summit issued a joint statement supporting the meeting's aims, pledging to do more to tackle the underlying causes of conflict.

German Chancellor Angela Merkel, one of the highest profile guests, said she hoped the summit would result in "better coordination between the different actors" and a "new systematic approach".

80 countries to attend world aid summit

Participants, many of whom include small and medium-sized non-governmental organisations, have a realistic but hopeful view of what the gathering can achieve.

"Expectations for the summit have gradually reduced," said Rob Williams, chief executive of charity War Child, which supports and protects children around the world affected by conflict.

"We still have the feeling there is a lot of good faith going into Istanbul. We also have a restricted view of what is possible to achieve," he told AFP.
COMMENTS
Comments are moderated and generally will be posted if they are on-topic and not abusive.
For more information, please see our Comments FAQ