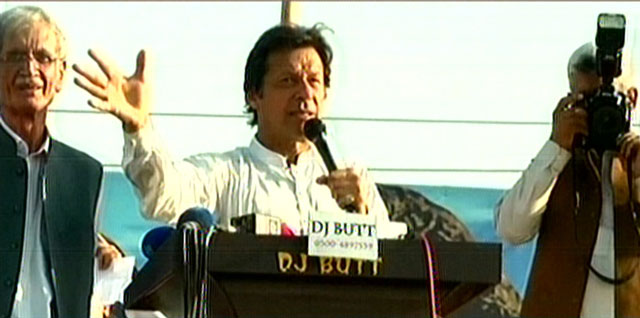 ---
In a veiled jibe at Prime Minister Nawaz Sharif's government, Pakistan Tehreek-e-Insaf (PTI) chairman Imran Khan on Sunday said his party, if comes to power, will not hurl allegations against the corrupt people but will put them behind bars.

"The most important thing we have to do is hold the country's powerful looters accountable. Even if we have to go alone against corruption, we will go ahead and ask Nawaz Sharif to answer the nation on Panama leaks," Imran said while addressing a public gathering in Swat, Khyber-Pakhtunkhwa (K-P).


We must pledge to resist and hold powerful dacoits accountable. - IK#SwatRejectsNawaz

— PTI (@PTIofficial) May 22, 2016
This is the defining moment for us to hold PM accountable over #PanamaLeaks - @ImranKhanPTI#SwatRejectsNawaz pic.twitter.com/YxqJW6dLhO

— PTI (@PTIofficial) May 22, 2016


The PTI chief said his party's government brought reforms in education and health sector; however, this change was not be "visible" to the prime minister.

"A civilised nation first educates its children and then builds motorways. For an educated nation, making motorway is fine but a country where 250 million children are out of schools, motorways can't help."


Mian sahb, you cannot see Naya KP from helicopter on roads. Naya KP is there to see in schools and universities.
- IK#SwatRejectsNawaz

— PTI (@PTIofficial) May 22, 2016


PTI will steer campaign against corruption 'till the end', says Imran

Imran went on to claim that PM Nawaz never paid any attention to the issues of K-P until the Panama Papers revelations .

"Nawaz Sharif never paid any attention to the issues of K-P in three years but as soon as the Panama Papers scandal surfaced he started visiting every place and announced mega projects."

Leaked documents from the Mossack Fonseca law firm in Panama last month showed the premier's three children – sons, Hassan and Hussain, and his daughter, Maryam – owned at least three offshore holding companies registered in the British Virgin Islands.

The PTI chief, however, said the prime minister will not be able to see his development projects complete because his [Nawaz's] days were numbered.

"I say to Mian Sahib... before these airports are built, he will no more be the prime minister."

The cricketer-turned-politician pledged to bring back the looted money of $200 billion to the country, which he said was lying in the offshore accounts of the corrupt politicians.

"[Almost] $200 billion is in foreign accounts which if brought back to Pakistan, can pay off our debts. When the money of Nawaz's children is lying in foreign lands, how can he bring back this amount?"


$200 bn of Pakistanis is in Swiss banks. If this $200 bn is brought back, public won't have to be taxed for 3 yrs
- IK#SwatRejectsNawaz

— PTI (@PTIofficial) May 22, 2016


The rally comes a day after former governor Khyber-Pakhtunkhwa (K-P) Iftikhar Hussain joined the PTI.

Hussain, a former Lieutenant General of Pakistan Army, served as K-P governor from 2000-04 as well as Pakistan's ambassador to Turkey.

Imran vows to make Nawaz accountable

Hussain's announcement had followed statements by the PTI leadership that senior Pakistan Peoples Party leader Raja Riaz joined its ranks.

"We will go till the end to expose the corrupt, even if we have to walk alone or take it to the streets again," the PTI chairman said while addressing the rally at Faisalabad's Dhobi Ghat Ground.

Pervaiz Rashid chides PTI chief

Information Minister Pervez Rasheed has said the PTI chief has been speaking the same things for past three years and has wasted money on political demonstrations, Express News reported.

"Instead of wasting money on his political processions he should get an audio cassette recorded," he said.

If Imran was honest, Rashid said, he would have presented himself for accountability.
COMMENTS (8)
Comments are moderated and generally will be posted if they are on-topic and not abusive.
For more information, please see our Comments FAQ