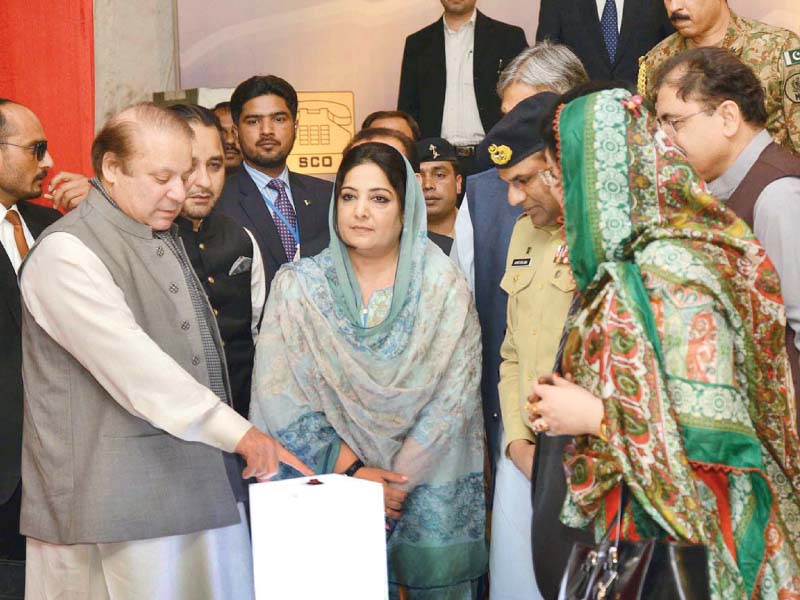 ---
GILGIT: Prime Minister Nawaz Sharif has said the China-Pakistan Economic Corridor (CPEC) will bring prosperity to the region and help end extremism and terrorism.

He was addressing the groundbreaking ceremony of the 820-km-long fibre optic link between Khunjerab and Rawalpindi on Thursday in Gilgit.

The $44-million Pakistan-China Optical Fibre Cable will be laid in two years by the Special Communication Organisation (SCO). The project is part of the Gwadar-to-Kashgar CPEC project that will also pass through Gilgit-Baltistan (G-B).

PM Nawaz said the project would be a milestone for information technology in the country, and called for extending its linkages to other CPEC areas. "The project will also ensure high quality of 3G and 4G services in G-B," he boasted. He said the world had transformed over the years and now "knowledge-based economy" was the buzzword. He urged the youth, particularly of G-B, to get ready for the challenges ahead and strive for excellence.




He said the objective of his government was to bring economic stability to the country, end poverty and generate employment. "Never in the past such huge projects had been launched." he claimed.

He announced establishment of a technical training institute with Rs100 million in seed money while granting Rs200 million for the development of Karakoram International University.

Earlier, the premier also inaugurated the CPEC patrol police headquarters in G-B for which China has donated the vehicles. The patrolling force comprising 300 personnel and 25 vehicles, and will help ensure safe and smooth flow of traffic on the 439-kilometre chunk of the CPEC project within G-B. He also administered oaths to the newly elected members of the G-B Council.

At the ceremony, PM Nawaz said the construction of roads was vital for the development of the country. "I know there are people who are against my plans to construct roads," he said, apparently taking a jibe at the PTI chairman. "But when we construct motorways, it is them who travel the most."

The fibre optic project was first envisioned during visit of Chinese President Hu Jintao's visit to Islamabad in 2006 and an agreement was inked in 2007. It is the first IT- and telecom-related project under the CPEC and would also be the first land-based interconnection between the two friendly neighbours. Starting from Khunjerab, the optical fibre will pass through Karimabad, Gilgit, Chilas, Naran, Mansehra, Hassanabadal and culminate in Rawalpindi. Plans are afoot for network extension to Gwadar and Karachi for complete end-to-end international connectivity along the CPEC route. The optical fibre would help establish alternate international connectivity for both the countries to address prolonged communication outages due to disruptions in submarine cables.

Published in The Express Tribune, May 20th, 2016.
COMMENTS
Comments are moderated and generally will be posted if they are on-topic and not abusive.
For more information, please see our Comments FAQ