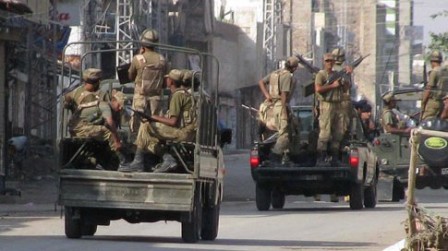 ---
WASHINGTON: The US House of Represen­tatives on Thursday voted to pass a bill that subjects reimbursements and support to Pakistan worth $450 million to strict certification requirements.

The House voted 277-147 in favour of passing the National Defence Authorisation Act 2017.

Pursuing Haqqani Network: US urges Pakistan to 'match words with actions'

While extending the period of reimbursing $900 million to Pakistan by 15 months from September 2016 to December 2017, but also extends the period requiring Secretary of Defense to notify US Congress prior to making any reimbursement under the Coalition Support Fund.

Further the bill removed the option of a national security waiver for aid worth $450 million (out of the $900 million) if the Secretary of Defense certifies that Islamabad is conducting military operations against the Haqqani Network in North Waziristan, and demonstrates commitment to preventing the Haqqani Network from using the tribal areas as a safe haven.

Further, Pakistan will be required to actively coordinate with Afghanistan to restrict the movement of militants, including the Haqqani Network, along the Pakistan-Afghanistan border.

Pakistan to comply to certain conditions to secure US military aid

However, the US Senate will pass its own version of the bill later this year, which will be reconciled with the House bill to create a final version of the legislation.

Once passed by the Senate and House, that NDAA would be sent to the White House for Obama to sign into law, or veto.

The White House has already threatened to veto the bill based on a string of reservations including budgetary cuts  that Congress pushed into it that would cut the US overseas war chest by $18 billion, a move criticised by Secretary Defense as 'deeply troubling'.

Published in The Express Tribune, May 20th, 2016.
COMMENTS (29)
Comments are moderated and generally will be posted if they are on-topic and not abusive.
For more information, please see our Comments FAQ