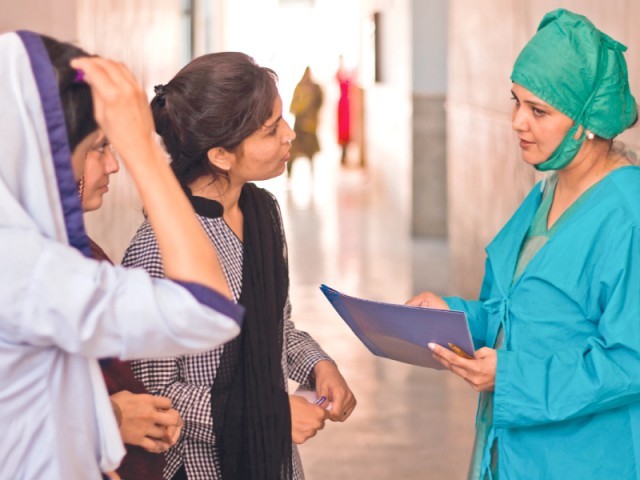 ---
KARACHI: The Sindh High Court (SHC) was told on Thursday that around 5,000 women in Pakistan develop fistula every year. The court sought names of health experts for a committee to address the problem facing women due to fistula disease in the province.

SHC Chief Justice Sajjad Ali Shah, who headed the division bench, called for these names by June 2. A petition was jointly filed by gynaecologist Dr Shershah Syed, non-governmental organisation Tehreek-i-Niswan and Kiran Sohail, a mother of six who had developed obstetric fistula after having her first child and was left untreated for over eight years. The petitioners submitted that despite the passage of national maternal health policies, around 5,000 women in the country developed fistula every year. They estimated that over 1,500 suffering from the injury hailed from Sindh, where a majority of the government hospitals does not provide fistula repair surgery.

In the petition, they explained that obstetric fistula was a hole between the birth canal and the rectum or bladder that leads to continuous, uncontrollable flow of urine or faeces, or both. It is mainly caused by prolonged obstructed labour without timely emergency obstetric care but could be repaired through a surgical procedure, they added.




According to the petitioners, the country had, in 2006, introduced the National Maternal Newborn and Child Health Programme, which called for improvements in maternal and newborn child health services at all district levels, including 24-hour comprehensive emergency obstetric care, training of community midwives, access to comprehensive family planning services and general awareness of maternal health services.

While Sindh had developed a health sector strategy in 2012 to address maternal deaths and improve antenatal care, only four hospitals are staffed and equipped to repair fistulas in the province, the petitioners pointed out. They pleaded that the provincial government be held accountable for the denial of timely and adequate treatment of obstetric fistula as violations of women's fundamental rights under the Constitution, including their rights to life and dignity.

During Thursday's proceedings, Dr Kishore Kumar, who appeared on behalf of the Maternal, Neonatal and Child Health Programme of the Sindh health department, briefed the court about the efforts of the provincial government to rectify the slackness as projected in the petition.

The petitioner's lawyer, Sara Malkani, suggested that a committee be constituted to supervise the overall betterment of problems as highlighted in the petition. Therefore, the two-judge bench asked the petitioners to propose names of experts, so that a committee could be constituted for redressing grievances made in the petition. The petitioners will propose names by June 2 when the bench will take the matter up again.

Published in The Express Tribune, May 20th, 2016.

 
COMMENTS
Comments are moderated and generally will be posted if they are on-topic and not abusive.
For more information, please see our Comments FAQ