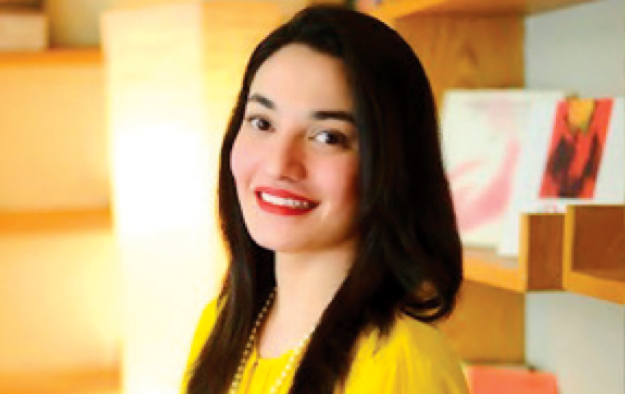 ---
"I pretended to sleep in my hospital bed when the women came to visit," shares Muniba Mazari. "The women would tell my mother that a husband would never keep a wheelchair-bound wife. Poor girl, she'll get divorced, they used to say, as I lay there lifelessly, pretending I couldn't hear them. My mother responded to them positively by saying if Allah took away my daughter's legs, there must be something important Allah wants my daughter to do without them. Despite my mother's optimism, this was a really tough time for me. I was tired of wearing white, of the hospital, of the negativity and colourless life. Doctors asked my mom if there was something I used to do before the accident. Mom told them I used to draw. I laughed when the doctors asked me to start painting. Although I couldn't hold a brush, I kept trying."

The Accident

"The driver slept and my car fell into a ditch," shares Muniba, while recalling the accident that would change her life. "When the driver jumped out of the car, I believed I was going to die. My first thought was I'm 21 and I've done nothing with my life. I've never lived for myself. I spent my life studying hard, instead of becoming the artist I wanted to become. I was only 18 when I got married… I lost consciousness after the car toppled and my backbone was crushed. After taking me out of the ditch, I was put in a Potohar jeep as there weren't any ambulances nearby in Balochistan. I asked people where my legs were. They said, "They are right here." I was very composed, I didn't cry. At the hospital, I told the doctors, 'I'm half paralysed, I can't feel anything.' I was in severe physical pain, but I didn't cry.

Muniba Mazari appointed UN's first woman Goodwill Ambassador to Pakistan

"I didn't cry till I was alone in the hospital room with my mother weeks later," Muniba shares. "My mother asked me to write something with my deformed hand. I tried to write Allah on a piece of paper but I couldn't manage. That's when I finally broke down and started screaming and crying. I realised I had lost something really big. And many people who were close to me had given up on me. For the next two years, I was bed-ridden. I couldn't brush my teeth or make my hair properly. I used to hang my hair upside down from one side of the bed so I could brush it. Once, the brush got stuck in my hair. I was so annoyed I took a pair of scissors and chopped it off. I still remember my hair was long in the front and short in the back."

The Recovery

"I was so happy when I sat on a wheelchair for the first time," shares Muniba. "So what if I lost my legs? I have two wheels now. The first thing I did was to put on some lipstick and check myself out in the mirror. I thought that I looked like a clown and that a person on a wheelchair can never look good, so I removed the lipstick. But then I put it back on because I decided to accept myself for the way I am. I became so brave after the accident. After losing so much and being surrounded by so much negativity, I realised I had nothing left to lose. I wanted to prove to the world that a disabled person can live a happy, fulfilling life too. I started a job as a content writer to earn money and started drawing and painting to pursue my passion. Everyone is fighting a battle on the inside. I'm fortunate that my battle is visible. Most of us are fighting battles that aren't visible. The key is to keep fighting with a smile on our face."

Two Pakistanis part of BBC's 100 inspirational women 2015

Coming back to life

Today, Muniba is an accomplished artist, works two jobs, is a single mother of an adopted son (who completes her life) and she'll be representing Pakistan in the prestigious Forbes 30 under 30 list of top promising young leaders, daring entrepreneurs and game changers from around the world. She's also a UN Goodwill Ambassador for women to advance gender equality and the empowerment of women and girls. Her message for Pakistan on behalf of disabled people is worth spreading on social media: "Before you 'dis' our ability, always remember that a person who is differently abled only needs your empathy, not your sympathy!" #MunibaMazari #ExtraordinaryPakistani

Extraordinary Pakistanis seeks to find and share inspirational stories about everyday Pakistani heroes (if you know someone who should be profiled, send us a tweet @Mbilallakhani). If we don't share these stories about Pakistan, no one else will. 



Published in The Express Tribune, May 19th, 2016.

Like Opinion & Editorial on Facebook, follow @ETOpEd on Twitter to receive all updates on all our daily pieces.
COMMENTS (20)
Comments are moderated and generally will be posted if they are on-topic and not abusive.
For more information, please see our Comments FAQ