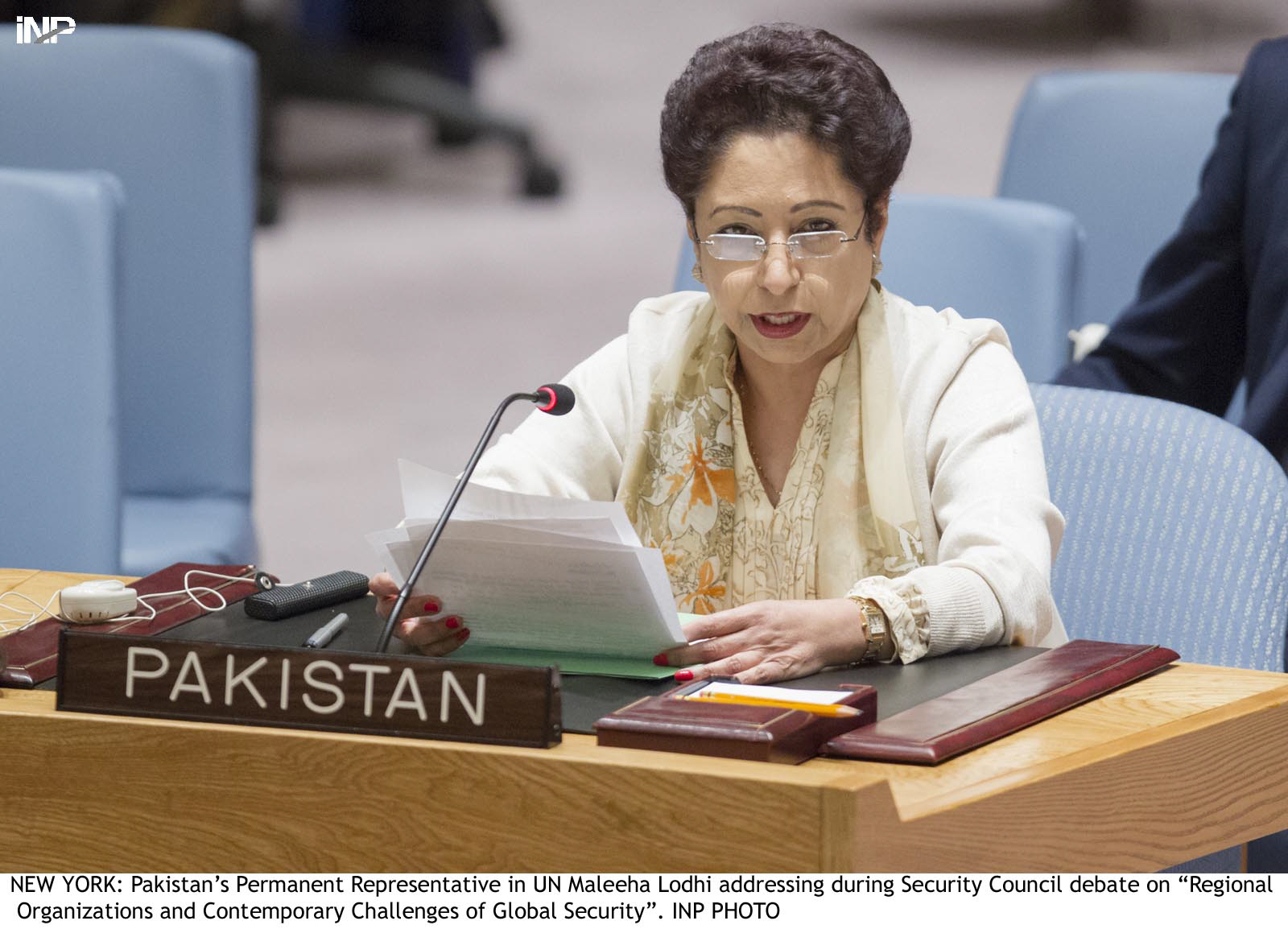 ---
Pakistan's permanent representative to the United Nations Dr Maleeha Lodhi reiterated on Wednesday that Jammu and Kashmir is a disputed territory and India cannot change that by nefarious tactics.

"Jammu and Kashmir is a disputed territory and numerous UN Security Resolutions attest to this," she said following Indian External Affairs Ministry spokesperson Vikas Swarup's claim that the territory was an integral part of India.

Vikas had also remarked that the proposed Geospatial Information Regulation Bill was an "entirely internal legislative matter of India".

Ambassador Lodhi comment comes as the United Nations Security Council issued her letter addressed to the UN Secretary-General and the Council's President, in which she voiced the Pakistan government's "serious concern" over the Indian move, as a document of the 15-member body.

Clashes in Indian Kashmir after three militants killed

Under Geospatial Information Regulation Bill, anyone distributing a map that the Indian government deems to be "wrong" could be liable for a billion-rupee fine and jail time.

Regarding Lodhi's concerns over the controversial draft bill, the Indian spokesperson in New Delhi rejected what he called the "repeated and increasing attempts by Pakistan to impose on the international community matters that it had always been open to address bilaterally with it".

"The proposed bill is an entirely internal legislative matter of India, since the whole of the state of J&K is an integral part of India," Vikas said, adding, "Pakistan or any other party has no locus standi in the matter."

Responding to questions, ambassador Lodhi called "untenable" the Indian claim that Jammu and Kashmir was an integral part of India. "This is a travesty of history, morality, international law and facts on the ground."

'Laser walls' activated along India, Pakistan border

In her letter which was distributed as an official UN document, the Pakistani envoy regretted that the international community and the UN have failed to take notice of the Indian action.

"The international community should honour its responsibility to the people of Jammu and Kashmir. More than 65 years later, the people of Jammu and Kashmir are still waiting for the international community and the United Nations to fulfill their commitments by holding an independent and impartial plebiscite under UN auspices," the letter said.

The draft bill, which was circulated by the Indian Home Ministry for comments from the general public on May 4, is likely to be tabled in parliament after the expiry of the 30-day period.

Any violation of the licence terms and conditions, set in the draft bill, would lead to revocation of licence, a fine up to Indian Rupees 1 billion and seven-year imprisonment.

Besides, the bill evokes concerns over privacy, free flow of information and innovation.
COMMENTS (9)
Comments are moderated and generally will be posted if they are on-topic and not abusive.
For more information, please see our Comments FAQ