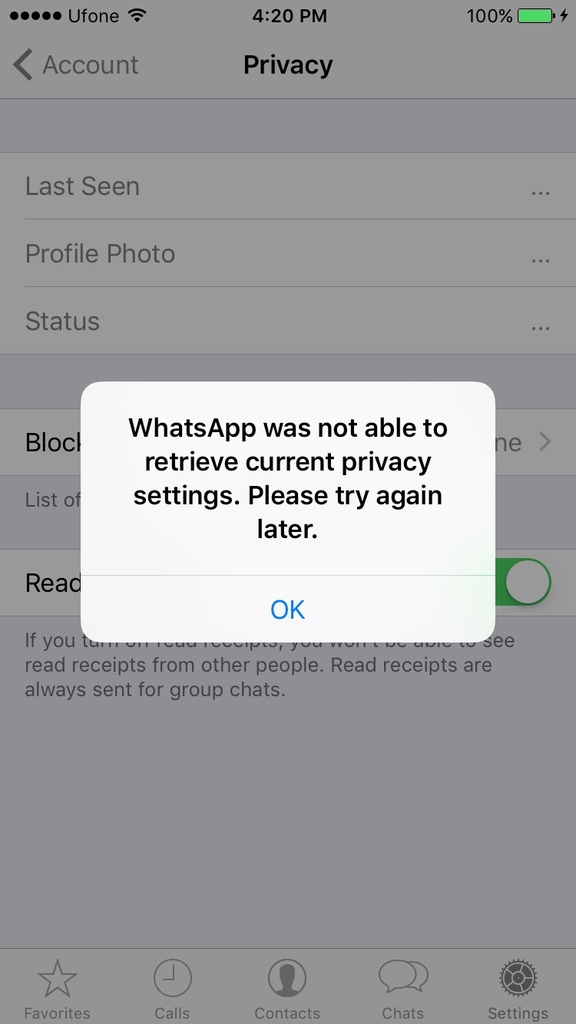 ---
Facebook-owned smartphone messaging service WhatsApp resumed after temporarily crashing in Pakistan on Wednesday.


Thousands of users across the country were unable to connect to WhatsApp on both Android and iOS. People were unable to respond to existing chats, start new ones or use the messaging app's WhatsApp web service.




Here's why you could be banned from using WhatsApp


When an existing chat was opened, the name of the person or group was replaced with a spinning wheel and the word 'connecting.'


While attempting to use change the privacy settings, the service generated an error message that said: "WhatsApp was not able to retrieve current privacy settings. Please try again later."



Many took to Twitter to ask if others were facing connectivity issues as well:
#Facebook Facing Downtime Since Morning and Now #WhatsApp Down ... !

— Syed Raza Mehdi (@SyedRezaMehdi) May 18, 2016
Is there any problem in #WhatsApp ?

— 🅙🅐🅦🅐🅓 (@jawaadnazeer) May 18, 2016
#WhatsApp Service disturb in Pakistan. pic.twitter.com/VZn28lBnkd

— Ameer Hussain Shah (@ameer_na) May 18, 2016
#WhatsApp is not working https://t.co/iWbeC3nRlb

— Iqbal Khattak 📸 اقبال خٹک (@khattak63) May 18, 2016
Is anyone else facing issues using #Whatsapp in Pakistan?#whatsappdown

— Mariam Imran - Economist, MarComms (@iammariamimran) May 18, 2016
WhatsApp isn't working in Pakistan? Whats going on? @WhatsApp

— Nighat Dad (@nighatdad) May 18, 2016
COMMENTS (2)
Comments are moderated and generally will be posted if they are on-topic and not abusive.
For more information, please see our Comments FAQ