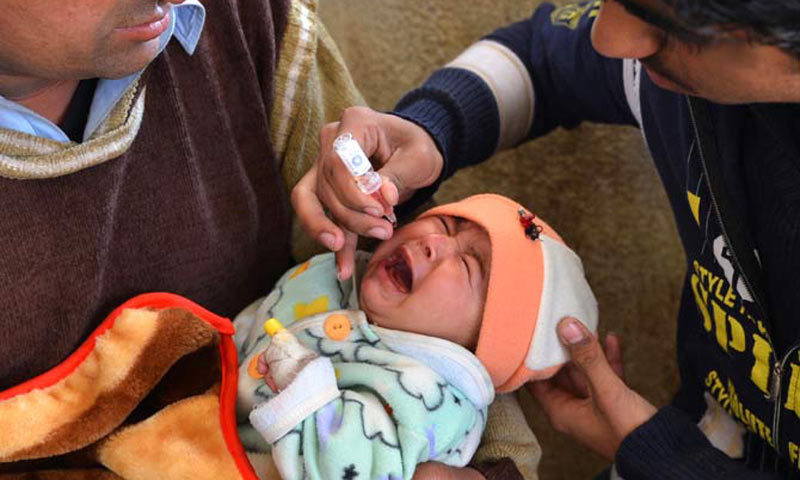 ---
With only a handful of new cases reported this year, Pakistan may be on the verge of eliminating the polio endemic within a few months, according to the World Health Organisation (WHO).

Fighting polio: All set for making global polio vaccine switch

Pakistan and Afghanistan are the last places where polio remains prevalent. Millions of children are expected to be vaccinated over three days with police escorts guarding health workers against militants who oppose immunisations against the crippling disease.

Speaking to the BBC, Dr Michel Thieren, the WHO representative for Pakistan said: "The challenges we have are both logistics and security."

Thieren said that nearly 70,000 medical staff aim to immunise almost 10 million children in the drive, which is taking place in Khyber-Pakhtunkhwa (K-P) and semi-autonomous tribal areas in the northwest, as well as in southwest Balochistan province.

"They have with them 12 million doses for the coming three days," he said, adding, "We are very close. A handful of cases [were] noticed this year - about 11 in Pakistan and I think about five in Afghanistan."

He went on to say, "This is the lowest toll of cases in history. We expect to be within months of polio elimination in Pakistan."

3-year-old boy crippled by polio was given drops at least nine times

Earlier, during a meeting of the provincial taskforce at Emergency Operations Centre (EOC) in Peshawar, the Deputy Commissioner Riaz Mehsud, lauded the role of law enforcement agencies in polio eradication.

In 2014, Pakistan had recorded more than 300 polio cases, its highest number since 1999. The number of cases fell to 52 in 2015.

This article originally appeared on BBC.
COMMENTS
Comments are moderated and generally will be posted if they are on-topic and not abusive.
For more information, please see our Comments FAQ