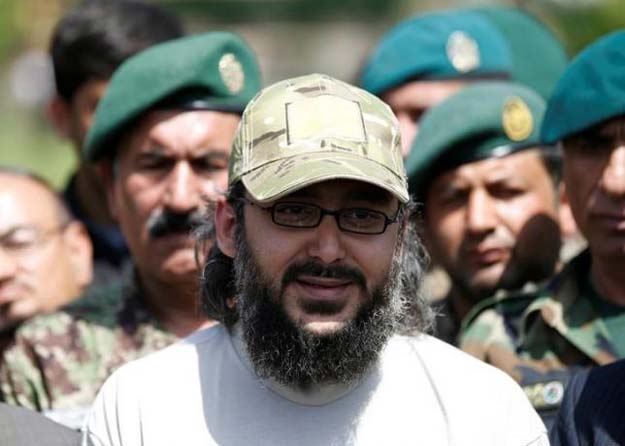 ---
ISLAMABAD/ LAHORE: The freed son of a former premier reunited with his family in a shower of rose petals in Lahore Wednesday, three years after he was kidnapped then taken to Afghanistan.

Ali Haider Gilani, son of Yousaf Raza Gilani, was rescued during a counter-terror raid by US and Afghan forces in eastern Afghanistan Tuesday.

He was kidnapped by militants in the outskirts of Multan on May 9, 2013, just two days before a bitterly contested national election in which he was campaigning.




Crowds of well-wishers dancing to drum beats greeted the 30-year-old's arrival at his family's home in Lahore in a black SUV strewn with pink rose petals.

Gilani, who is a triplet, was accompanied by his brother Ali Kasim on the journey from Kabul in a plane that the foreign ministry said was sent by Prime Minister Nawaz Sharif.

"Four to five people offered us the use of their plane," he had said.


Prime Minister's special aircraft in Kabul that just took off with Mr Gilani, his brother & Pak MOFA staff on board pic.twitter.com/ZSXlfFBrwa

— Spokesperson 🇵🇰 MoFA (@ForeignOfficePk) May 11, 2016


His father was reportedly absent from the reunion, with television channels reporting his appearance in a court in Islamabad on corruption charges.

"I really appreciate the... Afghan forces efforts," Gilani, bearded and wearing a white T-shirt and camouflage baseball cap, told media at a ceremony earlier Wednesday in Kabul.

"I would also like to thank the US forces which at the critical moments of my release provided me with shelter, food and medical care.

"And, at this time, I am looking forward to be reunited with my family, just getting back to normal life."

Gilani was rescued in the Giyan district of Paktika province Tuesday by US Special Operations Forces and Afghan commandos, NATO has said.

Watch Ali Haider Gilani reunite with family after three years:



NATO said the raid was carried out under Operation Freedom's Sentinel, the US mission focusing on counter-terrorism as well as training, advising and assisting Afghan troops.

Four "enemy combatants" were killed during the raid, it said.


Homecoming: Political parties welcome Ali Haider's rescue
Ambassador of Pakistan and Mr Ali Haider Gilani pic.twitter.com/yeLiSrTYVi

— Spokesperson 🇵🇰 MoFA (@ForeignOfficePk) May 11, 2016


https://twitter.com/ForeignOfficePk/status/730271369422721025

Parties welcomed recovery

Political parties have welcomed the rescue of Ali Haider.

Prime Minister Nawaz Sharif congratulated the Gillani family. "I am pleased at the news of the safe recovery of your son. I pray to Allah Almighty he may return home soon," Nawaz said in a statement issued by the PM House.

Ali Haider Gilani recovered from Afghanistan after three years in captivity

"I pay tribute to you and your whole family for spending three years with courage and patience."

Bilawal Bhutto Zardari, the chairman of the Pakistan Peoples Party, which the Gillanis have been associated for decades, tweeted his congratulations soon after the news was announced.

PPP Co-chairman and former president Asif Ali Zardari also welcomed the rescue.

"The recovery of Ali after three years is welcome news not only for the Gillani family but also for the whole nation," he said in a statement.

Two years on...: Ex-premier Gilani's abducted son 'happy and safe'

Pakistan Tehreek-e- Insaf (PTI) chairman Imran Khan also congratulated the Gillani's family over Ali's rescue.

"Congratulations to the Gillani family for the safe recovery of their son. No parent should have to go through this ordeal," Imran wrote on the microblogging website Twitter.

Jamaat-e-Islami chief Sirajul Haq termed the recovery of Ali good news for the Gillani family. "I congratulate Yousaf Raza Gillani and his entire family on the recovery," Haq said while talking to The Express Tribune.