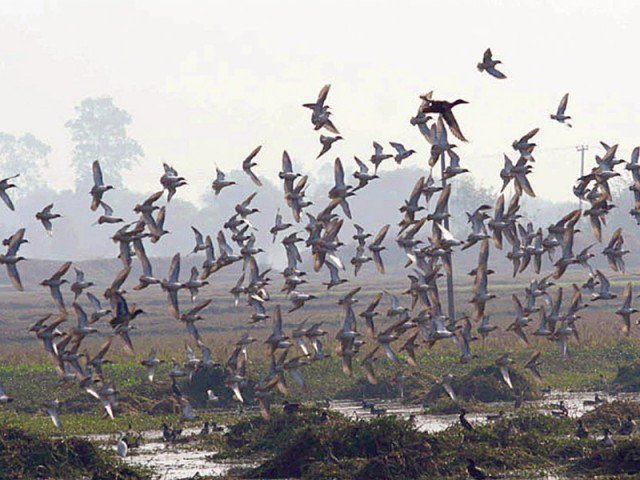 ---
LAHORE: Speakers at the seminar held to mark the World Migratory Birds Day on Tuesday stressed the need for conservation efforts to protect these bird species.

The seminar was arranged by the Worldwide Fund for Nature (WWF) Pakistan.

This year, the theme for the day was Stop Illegal Killing and Trade of migratory bird species. At the seminar, speakers discussed the anthropogenic pressures faced by several bird species during their seasonal movement. Virtual University's Professor Muhammad Sharif Mughal said there was a lack of awareness in the public about the importance of migratory birds for the health of the ecosystem. He praised the WWF-Pakistan for its efforts for conservation of biodiversity and natural resources in the country.

A documentary on migratory waterfowl was screened at the conclusion of the seminar.

In a press release issued on the occasion, WWF-Pakistan senior director (biodiversity) Rab Nawaz said that because of its unique geographic location the Indus Flyway was one of the most diverse in the world. He said every year 400 kinds of migratory birds flew across the region. He said the WWF-Pakistan had recently completed a research to assess the illegal trade in migratory species including Demoiselle cranes in Pakistan.

Nawaz recalled that the country was a signatory to the Bonn Convention on Migratory Species. Under the convention, he said the country was required to protect these species and promote their sustainable use across its ranges. He said the treaty provided a platform for multinational efforts for conservation of migratory species. Nawaz lamented that the number of migratory birds was witnessing a declining trend in Pakistan. He said experts believed loss of natural habitat, illegal hunting and climate change impacts were causing this. He said among the benefits of such bird species was their ability to prey on several kinds of insects and weeds. The preservation of these species was important for agriculture in the country, he added.

Published in The Express Tribune, May 11th, 2016.