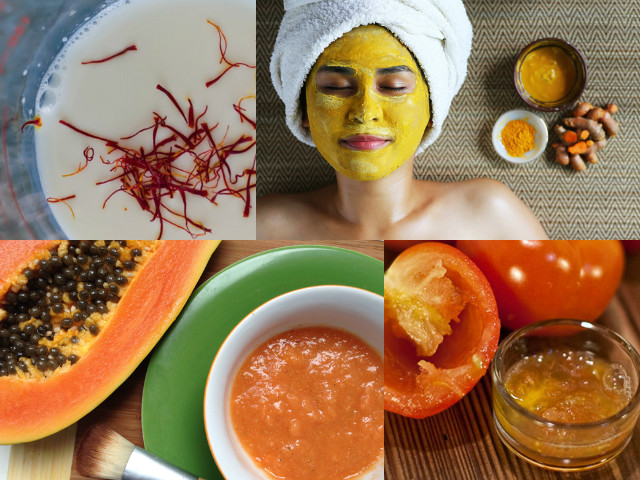 ---
Use cucumber and rose water to remove the unwanted tan or opt for a tomato, yogurt and lemon juice face pack to get a glowing skin during the summer season, says an expert.

Here are a few tips for those who face skin tan problems in the summer.

1. Cucumber, rose water and lemon juice pack

One of the best home remedies for removing tan is cucumber and lemon. Lemon gives you skin lightening whereas cucumber and rose water soothes the skin. Mix these three ingredients together and apply with cotton. Wash after 10 minutes with cold water. For best results apply the pack everyday.




2. Besan (gram flour) and turmeric face pack

This is a combination of bleaching and scrubbing. Turmeric powder adds glow to the skin and reduces tan. Besan works as natural scrub and it also removes dead cells. Add two tablespoons of besan and a pinch of turmeric. Mix it with a one tablespoon of milk, cold rose water and a spoon full of crushed orange peel. Apply on the face and wash it after 20 minutes.




9 daily habits of people with flawless skin

3. Papaya and honey face pack

The enzymes present in papaya lighten your skin tone and reduce the visibility of scars and blemishes. Honey moisturises and softens the skin. Mix half cup of ripe and mashed papaya, add one tablespoon of honey and apply the pack. Rinse with water.




4. Tomato, yogurt and lemon juice face pack

This face pack helps in removing dark spots and pigmentation from the affected area. Take three tablespoons of tomato pulp, one tablespoon of lemon juice and one tablespoon of yogurt. Mix them well and apply it on the skin. Let it dry for 30 minutes and wash afterwards.




6 makeup tips for summer

5. Milk powder, honey and almond oil face pack

Almond oil is also used for skin whereas milk powder moisturises the skin and imparts clear tone and texture. Mix two tablespoons of milk powder, one tablespoon of honey and few drops of almond oil and apply the pack, leave for 20 minutes before washing for best results.




6. Sandal wood and coconut water pack

Sandalwood powder works as a natural skin cleanser and removes impurities and dead cells and blemishes from the skin. Mix one tablespoon of sandal powder with coconut water and add a few drops of almond oil, apply for 20 minutes for best results.




7 tips to keep your home cool in the summer

7. Saffron and fresh cream face pack

Saffron helps in removing tan, brightening skin and also fights pimples and acne. Soak a few strands of saffron and two tablespoons of milk cream overnight, blend both and apply it on the face with the help of your finger. Wait for 20 minutes before rinsing off with water.