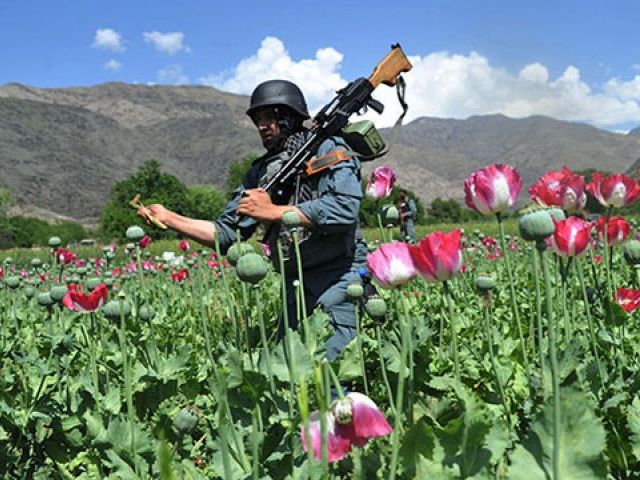 ---
WASHINGTON: A bumper poppy crop in Afghanistan will help fund the Taliban and likely lead to fresh attacks on Afghan security forces after the harvest, a US general said Thursday.

Brigadier General Charles Cleveland, a senior spokesperson for US forces in Afghanistan, said fighting in Helmand province had actually dipped in recent weeks while members of the Taliban harvest poppy fields -- but warned the lull was temporary.

"As the harvest really concludes here, and we think it concludes really as soon as this week, we do expect to see an uptick in the Taliban efforts to attack the ANDSF (Afghan National Defense and Security Forces)," Cleveland said in a video call with Pentagon reporters.

Use of force against Afghan Taliban unviable until peaceful options exhausted: Aziz

Poppy cultivation in Afghanistan has been generally rising over the past decade, fueling the Taliban insurgency and spurring a growing crisis of drug addiction despite costly US-led counter-narcotics programmes.

Though the total area under cultivation dropped during a drought last year, the southern province of Helmand retained its title as leader in growth of opium, which is used to produce heroin.

"There is a concern that with this very good poppy crop that they had this year, it is going to result in the Taliban being able to turn that into money for their efforts," Cleveland said.

Afghan opium cultivation drops for first time in six years

Poppy farming has boomed over the years in southern and western regions, which include the most volatile parts of the country where the Taliban insurgency is the strongest.

Afghan forces have been sent to the area around Lashkar Gah, Helmand's capital which recently came close to falling to the Taliban.

Cleveland said between 700 and 800 US forces are in Helmand, training and advising Afghan partners.