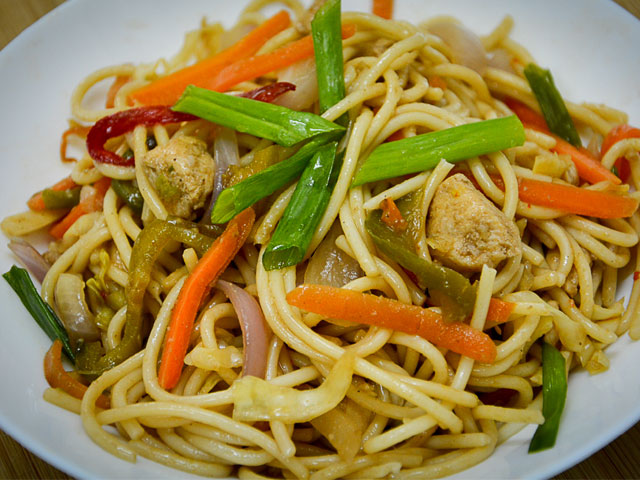 ---
We all love Chinese food and more often than not, we rely on restaurants to satisfy our cravings.

My experience with Chinese food is never complete without a serving of chicken chow mein -- it's one of the first things I order at a restaurant, but it is a dish that most restaurants don't get right.

My wife however, makes a mean chow mein which is undoubtedly loved by everyone in our family. This is the Pakistani-influenced version, similar to what's served in restaurants across the country.


How to make mouth-watering 'pizza pasta'


I often hear people complaining about being unable to imitate restaurant-style chow mein at home. Well, here's her secret: She cooks everything separately and assembles the chow mein towards the end. This not only keeps all the ingredients from turning into mush, but also gives a distinct flavour to every bite.

Here's how you can prepare a plate of piping hot stir fried noodles in the confines of your own kitchen.




Prep Time: 35 mins

Serves: 3-­4 people

Ingredients

300 grams egg noodles (or rice noodles, depending on your preference)

150 grams boneless chicken (cut into 1 cm thin strips)

2 medium-­sized carrots (thin 1 ­inch julienne cut)

½ green bell pepper (julienne cut ­ if red and yellow bell peppers aren't available, use 1 green bell pepper)

¼ red bell pepper (julienne cut)

¼ yellow bell pepper (julienne cut)

125 gm cabbage (thinly sliced)

2 spring onions (one inch pieces)

1 medium onion (thickly sliced)

6-­7 garlic cloves (crushed)

4 tablespoons sesame oil (use vegetable oil if sesame is not available)

6 tablespoons soy sauce

6-­8 tablespoons chili sauce (to taste)

2+1 teaspoon salt (2 teaspoon salt required while boiling noodles)

¼ teaspoon red chili flakes

¾ teaspoon black pepper

½ teaspoon white vinegar

½ teaspoon chinese salt (Ajino Moto or MSG ­optional)

A pinch of sesame seeds (for garnish)


You must try these Mexican fusion pita pockets


Method

-Set aside all ingredients before starting to work on this recipe.

- Boil noodles as per the instructions on the box; add two teaspoons of salt during the process.

- Drain the water and let the noodles cool.

- In a wok, stir fry all the bell peppers in ½ teaspoon sesame oil for two minutes; take it out in a bowl once done

- Next, stir fry the cabbage in ½ teaspoon sesame oil for two minutes; set it aside once done.

- Stir fry the thickly sliced onion in ½ teaspoon sesame oil for two minutes; set it aside once done.

- Stir fry the carrots in ½ teaspoon sesame oil for two minutes; set it aside once done.

- In a sauce pan, add all the remaining sesame oil along with soy sauce, chili sauce, black pepper, Chinese salt, salt, chili flakes, and half of the garlic; cook for 3 minutes till the consistency is thick.

- Once all vegetables have been separately stir fried, add half of the remaining sesame oil and the garlic in a wok.

- After a minute, add the chicken and cook for 4-­5 mins (or till the chicken is tender) with the lid on.

- Add in the noodles to the chicken and stir fry for 2 minutes.

- Add in the stir fried vegetables one by one and mix well.

- Add the sauce to the noodles and cook for 2 minutes.

- Finally, add in the spring onions and turn the heat off.

Garnish with sesame seeds and serve immediately!