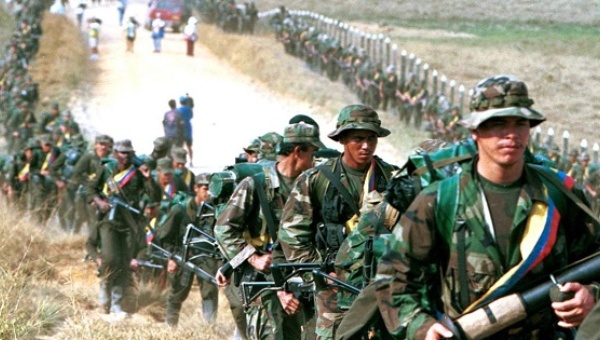 ---
BOGOTA: Do Colombia's FARC guerrillas have a multi-billion-dollar fortune from kidnapping and drug trafficking stashed in foreign bank accounts?

That question has triggered an explosive debate in Colombia just as it tries to turn the page on the half-century conflict between the government and the Marxist rebel group.

Panama Papers: Top lawyers' body seeks SC intervention

The FARC's ill-gotten gains have long been a subject of scrutiny, but the issue was blown wide open again recently when The Economist magazine put a number on the guerrillas' alleged fortune.

The British weekly reported the FARC had assets worth $10.5 billion in 2012, citing an unpublished study by government analysts.

The article opened a new rift between the FARC and the government even as negotiators from both sides work to hammer out the final details of a peace accord at long-running talks in Havana.

"What a joke that Economist story. They should check their sources and not believe stories about the insurgency's imaginary fortune," the FARC's chief peace negotiator, Ivan Marquez, wrote on Twitter.

"No human being takes up arms against an unjust regime to get rich."

President Juan Manuel Santos had a very different take.

"I don't have the slightest doubt... (that the FARC) probably have money somewhere," he said.

Panama leaks: PM Nawaz should be held accountable before others, says Imran

At the height of its strength in the 1990s and 2000s, the Revolutionary Armed Forces of Colombia (FARC) made huge amounts of cash kidnapping wealthy citizens for ransom, operating illegal mines in territory under its control, and running a large chunk of the drugs trade in the world's largest cocaine-producing country.

But it is hard to pin down exactly how much.

"Estimating the FARC's resources will always be a matter of speculation," said Gustavo Duncan, a Colombian academic who researches the guerrillas' involvement in drug trafficking.

Several experts on the conflict and sources close to the rebels dismissed the estimate published by the Economist as exaggerated.

But beyond the matter of the exact amount, "what's important is the availability of those resources as part of the peace negotiations," said Duncan.

"That money should serve to pay reparations to victims of the conflict and not to fatten personal fortunes."

Experts say the FARC's wealth -- which Santos admitted his government has been unable to find -- may even be hidden deep in the Colombian mountains.

The rebels for their part insist they have no money, a claim political analysts tend to reject.

"It's important that the FARC declare what they have. Their position is to say they have nothing, that they're poor. But that's an exaggeration, because we know they've lived off of kidnappings, extorsion and drug trafficking," said Frederic Masse, a specialist in conflicts and peace negotiations at Colombia's Externado University.

"The more they tell the truth, the more legitimacy they'll gain in the medium and long term."

That will be key as the FARC seeks to turn itself into a political party in post-conflict Colombia.

Santos has already warned that the government will seize any FARC assets it can find.

Inquiry on Panama Papers: CJP likely to consider govt's request for probe

Prosecutor Jorge Perdomo said last week that since peace talks opened in Cuba in 2012, investigators have been working to decrypt the rebels' finances.

"We have information about foreign investments and properties, mainly in Central America," he said.

The US ambassador to Colombia, Kevin Whitaker, has offered his country's assistance, saying the FARC must be held responsible for paying reparations to its victims.

The Colombian conflict, which has drawn in several leftist rebel groups, right-wing paramilitaries and drug gangs over the years, has left 260,000 people dead and 45,000 missing.

Another 6.6 million have been uprooted.

Human rights groups say atrocities have been committed on all sides.