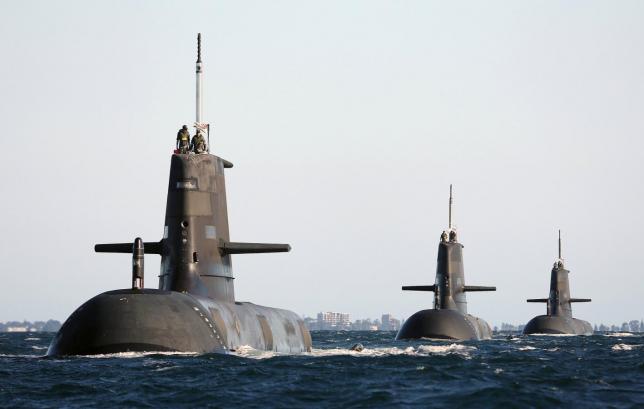 ---
SYDNEY: Australia may have awarded France a bumper contract to build its next generation of submarines, but its highly secretive combat system will come from close ally the United States.

French shipbuilder DCNS last week beat off Germany and Japan to secure the Aus$50 billion (US$39 billion) deal to design and build the 12 subs, a scaled down conventionally-powered version of its 4,700-tonne Barracuda, to be named Shortfin Barracuda.

Race for $39 bn Australian submarine contract hots up

But it will have little to do with armaments and the complex combat system, which American defence giant Lockheed Martin -- which is in the running to be involved -- said was "essentially the eyes, ears and sword of the boat".

Australia has made clear it prefers the American AN/BYG-1 system, along with the joint Australian-US heavyweight Mark-48 torpedoes as its main weapon.

A decision has yet to be made on which company will be responsible for integrating the system -- essentially to detect, acquire and track targets -- with US defence contractor Raytheon also said to be a contender.

Given the close relationship and the fact that its technology will be used, Washington was always going to take a keen interest in Canberra's choice to build the boats.

Senior US officials were heavily involved in the competitive evaluation process and it was peer reviewed by retired US Navy Vice-Admiral Paul Sullivan and retired US Navy Rear Admiral Tom Eccles.

Washington reportedly at first favoured Tokyo over France or Germany for the sub build because of its existing close ties to the US Navy, along with regional security issues at a time of a rising China.

Japan expressed "deep regret" at not being selected, but analysts said the decision largely boiled down to capability.

France has extensive background in building submarines for others while Japan still lacks experience in exporting military hardware.

"I genuinely think the decision was made on technical grounds," said Stephan Fruehling, deputy director of the Military Studies Program at the Coral Bell School of Asia-Pacific Affairs.

He added that suggestions that the US had concerns about allowing its most advanced weapons systems to be installed on European-made subs made little sense.

Australian police to investigate submarine tender leak: ABC

"The sensitive stuff in the combat system is the software and the French don't need to see that," he said. "They provide the big boxes and cabling but the integration of the software is done by the US."

A breakdown on the cost of the combat system has not been provided, but analysts said it would be included in the Aus$50 billion ballpark figure provided by Canberra, accounting for less than a third.

Rory Medcalf, head of the National Security College at the Crawford School of Public Policy, agreed that France won on merit with strategic considerations secondary.

"The Australian government has recognised France as the best option in terms of capability -- the challenge now is to ensure that this is much more than a commercial deal, that it is also a partnership of deep strategic trust," he said.

He stressed Canberra must also now "take the initiative to assure the Japanese that a close strategic partnership is about more than submarines".

Australian submarines operate across huge areas, from the cold Southern Ocean to the tropics, and so require range and endurance to cope with wide-ranging geographic and oceanographic conditions.

Besides matching the capabilities of the existing Collins-class which are due to be replaced, the new generation subs need to offer superior sensor performance and stealth capabilities.

David Shackleton, an Australian vice admiral and former chief of navy, said that while stealth and range was key, the combat system was as crucial and with the US helping refine the one used on the Collins-class, it made sense to deepen that relationship.

"While there are other navies with which Australia's submarines will operate, it will take them a long time, if ever, to achieve the intimacy shared between the Royal Australian Navy and US Navy," he recently wrote for the Lowy Institute for International Policy.

Facts about Australia's next generation of submarines

He added that the two militaries enjoyed an "unprecedented degree of collaboration in research and development, tactical development and mutual training of an advanced nature".

"When all of these factors are put together, acquisition of a US Navy combat system for Australia's future submarines does matter, and it makes a lot of sense."