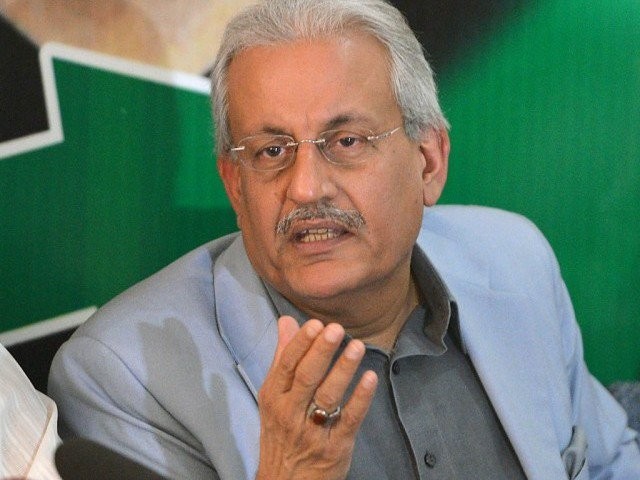 ---
KARACHI: Senate chairperson Mian Raza Rabbani lashed out at United States (US) presidential candidate Donald Trump for his remarks pertaining to the release of Dr Shakil Afridi, saying that Pakistan is a sovereign country and will not succumb to dictations.

"We are a sovereign nation and have our own priorities," said Rabbani during a ceremony held in honour of Labour Day at Karachi Press Club on Saturday. "We would not listen to your 'do more' statements anymore."

Trump calls for Indian intervention if Pakistan becomes 'unstable'

Trump, in a recent interview with Fox News, had said he would ensure that Pakistani physician Afridi, who allegedly helped the US nab alQaeda chief Osama bin Laden in Abbotabad, is freed from jail within 'two minutes' if he gets elected. The doctor, revered as a hero in the US, is serving a 33-year-long punishment in jail for treason.

The Senate chief and Pakistan Peoples Party leader said America has a long history of misusing its diplomatic ties with the country, be it the Raymond Davis issue or others.

"The friendly relations of the two countries are not equal," he said. "They always intend to support the US national security, no matter what happens to Pakistan."

The head of the US Congress committee on foreign relations has decided not to extend financial assistance to Pakistan in buying eight F-16 jets, citing reservations of some congressmen, said Rabbani. Similarly, some Pakistani parliamentarians also have reservations over relations with the US, he asserted. "US plays a biased role in the region," he said. "On one hand, it is providing civil nuclear technology to India and, on the other hand, it keeps reservations for Pakistan."

He also criticised the Pakistani government for extending an unconditional hand of friendship to a country which is so 'callous' in its behaviour. "So many military personnel of US, in its own enquiries, have been found guilty of attacking hospitals in Afghanistan, which killed women and children," he said. "Still, the country is not willing to hold them accountable or even have them court martialed."

Rabbani also shed light on the silence of the US over the massacre of children in Palestine and Peshawar. "The blood of an Asian is no less than that of a gora [Caucasian]," he said. "The [terrorist] incidents in Brussels and Paris sparked a hue and cry in Washington."

Pakistan a vital country for US because it has nuclear weapons: Donald Trump

According to him, Pakistan has made commendable progress in rooting out terrorism and making the world peaceful.

The event, meanwhile, was organised in connection with Labour Day and Rabbani presided over it as the chief guest.

Talking about the future of the labour movement, he said it was a pre-planned tactic to ban labour and student unions in the country to weaken the political role of the common man. "The ban only strengthened the feudal lords and investors," he said.

He reprimanded the practice of hiring contract labour and termed it a violation of Article 5 of the Constitution and demanded that the government should take measures to stop this 'unjust' form of employment.

He also urged Sindh chief minister Qaim Ali Shah to appoint a proper labour minister in the province to resolve the issues of workers on a priority basis. Others speakers at the event included human rights activist IA Rehman, journalist AH Khanzada and labour leaders Habib Junaidi and Karamat Ali.

Published in The Express Tribune, May 1st, 2016.