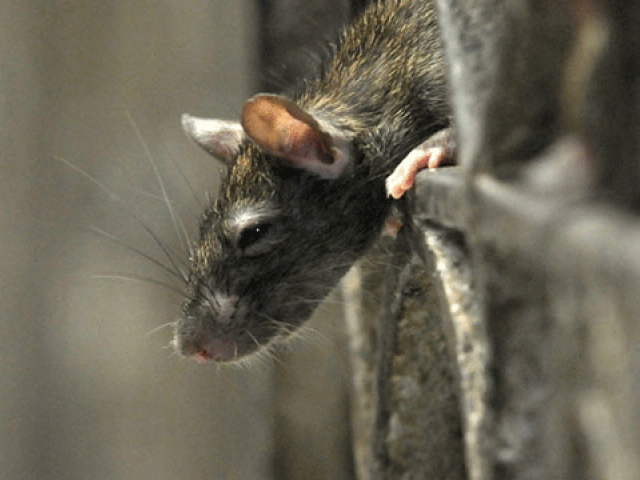 ---
PESHAWAR: After slogans of 'go Nawaz go', the vermin of the city are being urged by locals to turn tail and run.

Residents of Peshawar Cantt and adjacent areas held a demonstration against the government for failing to tackle the menace of the provincial capital's "killer rats". The protesters, who gathered from Nothia and other areas, were holding placards and shouted slogans of "go chooha go". They demanded authorities take concrete steps and protect their children.

Peshawar announces rat-killing bounty after infestation

An official told The Express Tribune that a massive campaign was launched to hunt down rats, but did not last long and ended without any meaningful results.

Similarly, a senior official in the local government department, requesting anonymity, stated there was a conflict between the health and local government departments over the matter.

"The floor of the assembly discussed which department should deal with the rats and both the local government and health ministries were reluctant to come forward," he said.

The official said the district government announced that it would pay people to kill rats, but could not keep up its promise due to the lack of funds.

"They seemed least bothered," he said, adding the officials questioned where the rats came from rather than taking preventive steps.

"If you check the number of cases, you will find majority of the victims are kids."

The Lady Reading Hospital (LRH) administration carried out a massive campaign to clear the facility of rats, especially the gynaecology ward as it deals with newborns. The LRH administration also received the majority of rat bite cases.

Shah Nawaz Afridi, who has been at the LRH for some three days, pointed out he brought his wife for delivery at the facility. "I was worried about by wife, but more about my son since I know rats have been biting infants." He demanded the government take immediate steps to tackle this alarming situation.

He also suggested that people visiting the medical facility should not bring food as that attracted the vermin. Afridi added the administration should impose a ban on eating at the facility.

8-month-old child dies after rat bites in Peshawar

"Only patients should be allowed to eat on the LRH premises."

LRH focal person Jamil Shah told The Express Tribune, "We have provided medical assistance to some 374 cases, including 128 males and 72 females. Almost 46% of the total are children." Meanwhile, district nazim Muhammad Asim Khan could not be reached for his version despite repeated attempts.

Published in The Express Tribune, May 1st, 2016.