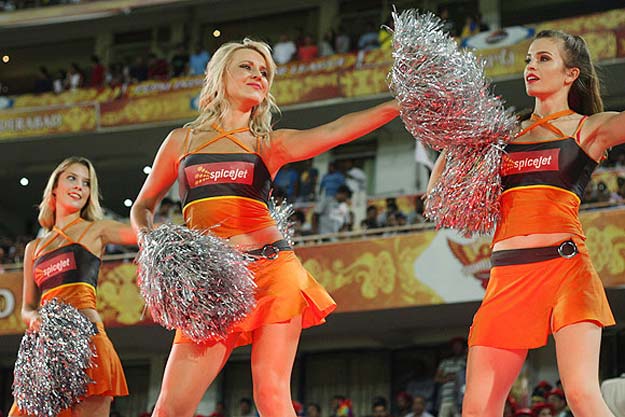 ---
I try never to miss a Twenty20 cricket league tournament whether it is played in Pakistan, India, the Emirates or Bangladesh. Or even the 50-overs matches and some of the Tests. Besides providing high entertainment, there are occasions when one witnesses events of immense anthropological interest. Like the 1992 World Cup when a former English cricket deity, Sir Ian Botham, was dismissed for a few runs and a Pakistan cricketer, Amir Sohail, indulging in a bit of tit-for-tat light-hearted banter said, "You should have sent your mother-in-law in to bat."

Some of us listen to the commentators in Twenty20s who dilate on what went wrong in a particular match. They have so much to say about the players and the pitch. But I have never read a line, not heard a teeny word of praise for those hard-working, scantily-clad, grossly underpaid dancers who prance, leap and jump about with smiles as wide as the Pacific, waving those fluffy muffs when a wicket has fallen or a batsman has sent a ball into orbit. Believe me, it's pretty hard work trying to do the Watusi in the heat. But heck, after all those hirsute images, the girls provide a welcome and refreshing interlude.

Katrina Kaif's abs steal limelight at IPL opening ceremony

Pakistan's seismic wonder Shahid Afridi, who, of late, has lost his touch with the bat, has gone on record to announce that the dancers should be banned as they are a distraction. What a klutz. All he has to do is avoid looking at them and focus on the English and Aussie players to see who has the most tattoos on his arms. Besides, where the winning team is going to share INR150 million and the runners-up 10 million, don't grudge the poor lasses their $1oo per match. A friend of mine has performed a detailed study of the cheerleaders and has come to the conclusion that the Kolkatta Knight Riders (KKR) has the prettiest girls. The KKR also happens to be my favourite team. Could it be because it was Jyoti Basu's and Satyajit Ray's city, or because it is still the most civilised metropolis in India?




The current tournament has also provided wonderful studies in how males react to incidents on the pitch. A case in point is Virat Kohli's astonishing variety of facial expressions in the match between the Challengers from Bangalore of which he is the captain and the Knights of old Calcutta led by Gautam Gambhir. They ranged from Still Life, when one of his players near the boundary dived in the direction opposite to the one which the ball was taking, or when one of lads dropped a catch; to Post Impressionism when one of the umpires declared that an opponent was out but the other umpire, who was probably related to Hawk Eye of the Navaho tribe of the United States, said they should go upstairs for another opinion; to Cubism when a feared opponent is finally sent back to the pavilion. It was the very first time I had seen a player snarl with joy.

Indian Premier League set to ease T20 heartache

The prices of players in the auction ranged from INR2.5 million to many, many millions. Yuvraj Singh and Chris Morris settled for 70 million each. But it was Shane Watson who hit the jackpot — 95 million. Not enough to buy an island as the Tasmanian Errol Flynn did. But he could get a few condominiums in Texas. King's XI Punjab is trailing rather badly in the points table. But at least viewers get occasional glimpses of the actress Preity Zinta who is much nicer to look at than Shahrukh Khan. I will never forget the time when Glen Maxwell hit a six and Miss Zinta leapt into the air in the manner of a Cossack dancer. It certainly made my day.

Published in The Express Tribune, May 1st, 2016.

Like Opinion & Editorial on Facebook, follow @ETOpEd on Twitter to receive all updates on all our daily pieces.
COMMENTS (11)
Comments are moderated and generally will be posted if they are on-topic and not abusive.
For more information, please see our Comments FAQ