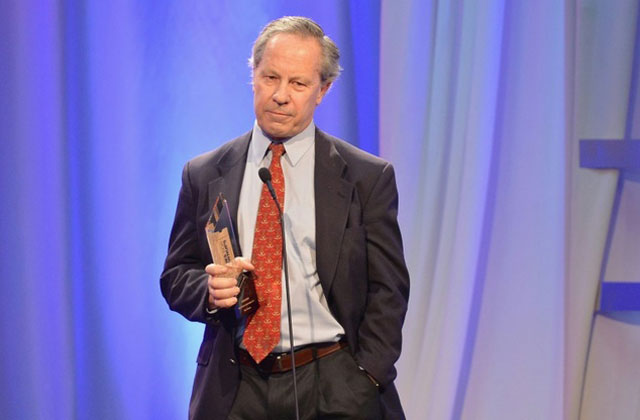 ---
The leader of the Boston Globe investigation into Catholic church child abuse that spawned the movie "Spotlight" berated Republican presidential front-runner Donald Trump for his "shameless" treatment of journalists covering his campaign.

Ben Bradlee Jr, who was in charge of the Globe's Pulitzer Prize-winning 2001-02 investigation into the Boston archdiocese, said Trump's constant smearing of journalists as dishonest made him a hypocrite.

Trump sharpens knives against 'crazy' US TV journalist

"It's shameless, what's going on in the Republican campaign. He's got them in a pen and they're not allowed to leave the pen and go out and talk to people," he told a panel discussion in Los Angeles.

"And he says 'look at them, look how dishonest they are.' This is the guy who's lived by the press and has his own relationships -- good relationships -- with reporters, and he plays them.

"He so hypocritical in calling them out as a bunch of dishonest jackals. It's just outrageous."

Trump's campaign has faced a barrage of criticism over its handling of the media, culminating with manager Corey Lewandowski being charged with battery for allegedly grabbing a reporter, although the case was later dropped.

The GOP candidate has been accused by Fox News of harboring a "sick obsession" with prominent news anchor Megyn Kelly and waging a campaign of crude verbal abuse against her.

Journalist Seth Stevenson, who followed Trump rallies from Chicago to Florida, accused Trump of singling out specific outlets for vindictive treatment, denying access to events following negative coverage.

"It infuriated me when he'd pause between telling blatant whoppers to point at the media pen and say, 'Those are very dishonest people, I have to tell you,'" Stevenson wrote in Slate magazine.

"On cue, his minions would spin around and boo us."

Bradlee Jr, played by John Slattery in Tom McCarthy's "Spotlight," made his comments at the TCM Classic Film Festival in Hollywood, during a panel discussion on journalism in film.

"Spotlight" won Oscars for best film and for its screenplay by McCarthy and Josh Singer, who was also at the four-day event, organized annually by film nostalgia network TCM.

Singer also criticized Trump, for affecting outrage when journalists asked him difficult questions during televised debates.

Trump takes steps to reset his campaign, tries to soften his image

"That's what they're supposed to do -- they're supposed ask the hard questions, right? That's what makes for democracy. That's the Fourth Estate, that's the job," he said.

The event coincided with a tense protest outside the California Republican Convention at a hotel near San Francisco's international airport, where Trump was due to speak.

The billionaire businessman was forced to hop over a barrier and use a back entrance to the hotel, surrounded by security guards.
COMMENTS
Comments are moderated and generally will be posted if they are on-topic and not abusive.
For more information, please see our Comments FAQ