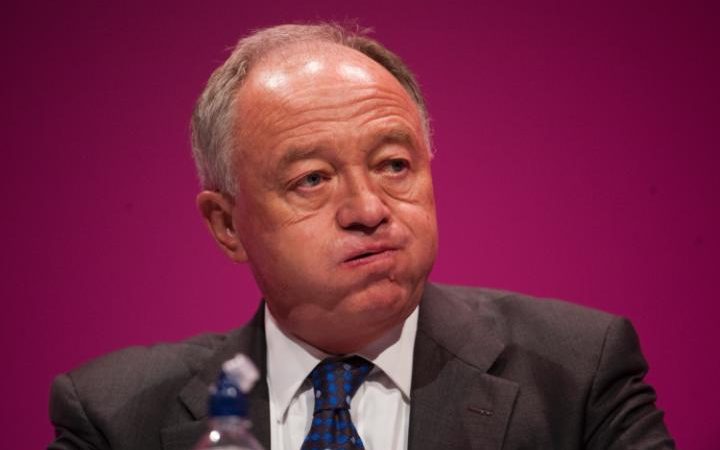 ---
LONDON: Britain's Labour opposition leader Jeremy Corbyn on Friday faced intense pressure over alleged anti-Semitism in his party less than a week before his leadership is tested by local elections.

Corbyn announced an independent review into racism after senior party member and former London mayor Ken Livingstone was suspended for linking Adolf Hitler to Zionism.

London mayoral elections: Imran supporting ex-brother-in-law

"There is no place for anti-Semitism or any form of racism in the Labour Party, or anywhere in society," the veteran socialist said.

"We will make sure that our party is a welcoming home to members of all minority communities."

The row exploded on Wednesday when Labour MP Naz Shah was suspended by the party pending an investigation into allegations that she shared anti-Semitic posts on social media before being elected.

Defending Shah in a series of interviews on Thursday, Livingstone also said that criticism of Israel's policies was being confused with anti-Semitism.

"When Hitler won his election in 1932, his policy then was that Jews should be moved to Israel. He was supporting Zionism before he went mad and ended up killing six million Jews," he said.

"I have been in the Labour Party for 40 years and I have never heard anyone say anything anti-Semitic.

"I have heard a lot of criticism for the state of Israel and its abuse of Palestinians, but I have never heard someone be anti-Semitic," he added.

The dispute has been simmering for months -- ever since Corbyn was elected party leader by grassroots supporters despite opposition from many MPs in September.

He has been criticised in the past for referring to Lebanon's powerful Shia militia Hezbollah as "friends" and urging dialogue with the Palestinian militant Hamas movement, as well as meeting representatives of both organisations.

Power devolution: MQM wants to speed up elections for mayor

In February, Labour launched an investigation into its Oxford University student branch after the chairman stepped down complaining that many members "have some kind of problem with Jews".

Last month Vicki Byrne, deputy chairwoman of a local party branch, was suspended after it was reported she had posted anti-Semitic remarks on Twitter.

Corbyn's own brother was drawn into the row earlier this month when he dismissed complaints about anti-Semitic abuse as part of an argument about Israel.

The remarks by Livingstone, a longtime Corbyn ally, were widely condemned within the party and some of those leading the charge are critics of the Labour leader, including members of his own shadow cabinet, leading some observers to suspect an internal power struggle.

Former leadership contender Andy Burnham, now the party's spokesman on home affairs, has said allegations of anti-Semitism had "not been dealt with properly and quickly enough".

The row has raised wider concerns in civil society.

Jonathan Arkush, the president of the Board of Deputies of British Jews, a representative body, told BBC radio that Livingstone had "crossed a line into certainly what most people would regard as distinctly anti-Semitic."

Jewish Chronicle editor Stephen Pollard wrote a piece in the Daily Telegraph saying Labour "is now run by a cadre for whom anti-Semitism really is OK, so long as it is dressed up as anti-Zionism".

The row is particularly sensitive for Corbyn as it comes ahead of regional elections in Scotland, Wales and Northern Ireland, English local elections and a mayoral vote in London that are being seen as litmus tests for his leadership.

While Labour is tipped to win in London, it could face losses elsewhere.

Sadiq Khan, Labour's London mayoral candidate, has spoken out against the party's failure to act on the issue more quickly.

"The comments from Ken Livingstone are appalling and disgusting and there should be no place in the Labour Party for anyone with those views," he said. "Racism is racism."

Nisar seeks coordinated anti-terror efforts

Khan, a Muslim, has faced a dirty mayoral race, fighting back against claims from Prime Minister David Cameron's Conservatives that he repeatedly shared a platform with an imam who Cameron claimed supported Islamic State (IS) jihadists.

Commentators say Labour now needs to work hard on its reputation.

"Certain forms of anti-semitism are a particular and recurrent danger among the left's ranks and it is as well to be vigilant," an editorial in the Guardian, seen as Britain's newspaper of record for the left, said.

It added that Corbyn, while not anti-Semitic himself, had overseen "sluggish discipline" and must "demonstrate that he and his Labour party is as instinctively attuned to this perennial virus as to every other form of racism."