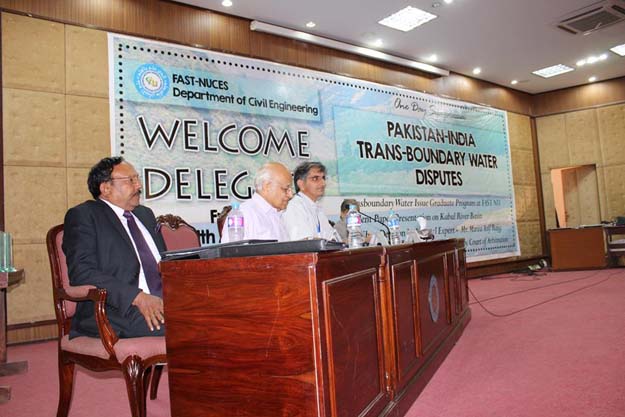 ---
LAHORE: Speakers at a symposium organised on Friday on water disputes between India and Pakistan said technology should be used to monitor water levels and check treaty violations.

They made the remarks while speaking at Pakistan-India Transboundary Water Disputes at the Lahore campus of FAST-National University of Computer and Emerging Sciences (NUCES).  The symposium commenced with Indus Water Commissioner Mirza Asif Baig delivering a comprehensive presentation. He explained water disputes between the two states in detail. Baig told those present about the neutral expert decision on the Baglihar Dam and the International Court of Arbitration's decision on Neelum-Jhelum-Kishanganga dispute.

The presentation was followed by a discussion on monitoring and resolving water disputes between India and Pakistan.

They said Pakistan must remain vigilant regarding Indian hydropower developments on River Chenab and River Jhelum. The speakers said the rivers had been awarded to Pakistan under the Indus Waters Treaty. They said India was not allowed to go-ahead with any projects on the western rivers.

The speakers said that India had been planning to construct a series of hydropower projects on River Chenab. They said the cumulative impact of these projects could result in River Chenab's flow of water being reduced at Marala.

They also emphasised the use of computer models and technology to generate various scenarios in connection with Indian developments on the rivers.

FAST-NUCES Civil Engineering Department Adviser Mansoor Ahmed Hashmi earlier emphasised the importance of employing remote sensing and GIS technology. He said these could be effectively used to monitor violations by India. Hashmi said India routinely concealed information about its projects from Pakistan. "Commercially available satellite data provides extremely detailed information on reservoir areas and any new construction activity," he said. Hashmi said the varsity had decided to make this its main area of concern and provide government officials, engineers and students with the knowledge and skills needed to assess and monitor developments on the Indus Basin that was at high risk due to climate change.

The event was sponsored by the varsity's Civil Engineering Department which recently initiated a master's degree programme in hydraulics and water resources.

Published in The Express Tribune, April 30th, 2016.
COMMENTS (2)
Comments are moderated and generally will be posted if they are on-topic and not abusive.
For more information, please see our Comments FAQ