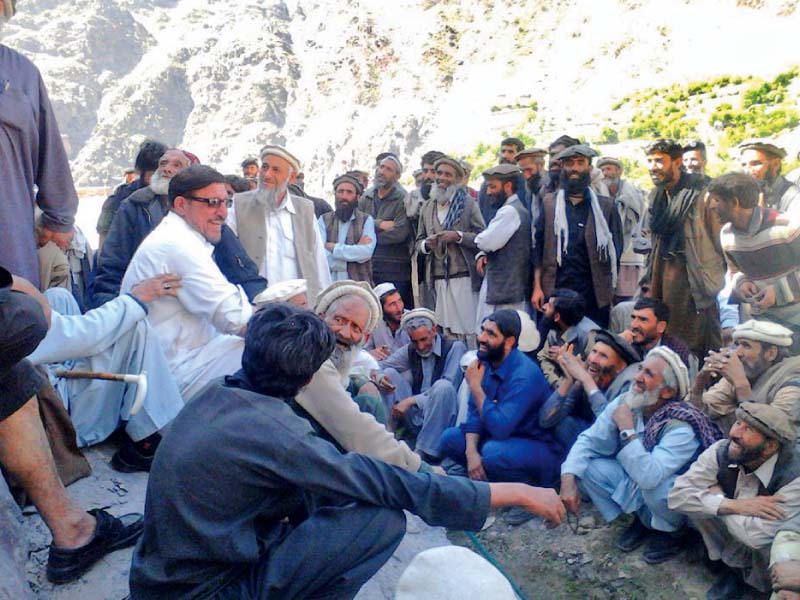 ---
CHITRAL:



Representatives of 450 earthquake-affected families continued to hold a sit-in for the third consecutive day against the failure of the government and administration to provide them with relief and rehabilitation. The demonstration was held at the Chitral-Peshawar Mir Khani check post.




The protesters offered Friday prayers on the road and got food from nearby areas. A massive convention was held after prayers and speakers urged the government to take notice of their problems for necessary action. There was pure disappointment and despair among quake-affected families who were forced to spend nights under the open sky. Maulana Saidullah, Abdul Bari, Qari Nizamuddin and Darosh trader union president Haji Shad Muhammad Khan were prominent among the speakers.

Javed Akhtar and Bari claimed the administration was only talking about reconciliation, but not taking any steps. Bari said officials provided relief cheques to undeserving families, while the underprivileged were ignored.

Official disapproval

The Chitral additional assistant showed concern over the matter and claimed there were other ways to go highlight concerns. He complained the affected families decided to protest, adding the threat to march to Afghanistan and migrate was improper.

However, the Chitral district nazim failed to pay attention to the protest and remained tight lipped over the matter.

Assistant Commissioner Altaf Ahmad remained firm on his stance. "Compensatory cheques to quake victims were issued according to a procedure." He termed the protest as uncalled for. "There is no justification for protesters to proceed towards Afghanistan and threaten migration."

An all-parties conference was held on Thursday in Darosh to discuss the issue; the result was support for the demand for rehabilitation. However, the APC remained silent over the march to Afghanistan.

Protesters called the conference inconclusive and the 450 families stuck to their guns, saying they would not move from the roads until relief was provided.

Published in The Express Tribune, April 30th, 2016.