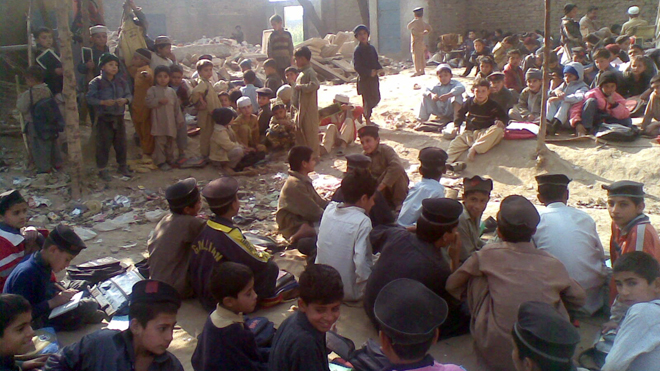 ---
SHABQADAR: Governor Iqbal Zafar Jhagra initiated a school enrolment drive in the tribal belt on April 10 with the aim of bringing all children of age back to school in both public and private sectors. Jhagra, through the FATA Secretariat, issued stern directives to all political agents in the Federally Administered Tribal Areas to ensure all children above five join school.

Political administrations issued a circular to all relevant authorities to "achieve 100% enrolment". They arranged meetings with tribal elders, public and private sector schools and other stakeholders to achieve this goal.

Like many initiatives, the beginning saw a lot of enthusiasm – it is the middle and the end everyone should worry about. The first and largest setback as yet has been the teacher associations—banned by the political administration—strike against promotion policies. Various unions have taken their protest against promotions to Islamabad, where they have stayed from April 20 to date. A dharna in Islamabad means a de facto boycott of school in Fata.

In whose service

These teachers argue since they are employees of the Khyber-Pakhtunkhwa government, posted in Fata, all provincial services rules should apply to them. However, they now feel such rights are not applicable outside 'the settled areas'.

Employees under a certain scale come under the FATA Secretariat while those in senior categories are dealt with by the K-P government, said a former employee of the Secretariat.

Marjan Ali, a primary school teacher representing an association from Mohmand, has been in Islamabad since April 20.

He told The Express Tribune the K-P government promoted teachers of various ranks around July 1, 2012. According to Ali, the provincial government also announced a one-step promotion to all employees—including school teachers—from July 1, 2015, but these policies were not applied to teachers in Fata.

Teachers serving in Fata have not been upgraded or promoted after 2012, which is against the K-P government's policies.

"Now we have no option but to boycott classes," Ali said. "We also boycotted classes in 2015 and the federal government promised to fix the matter." But, he added, "Now we know the Secretariat is not sincere in redressing our grievances."

Faking it

Officials at the FATA Secretariat say they want to solve the teachers' grievances, but availability of funds is a big problem – in this case a four-year arrear amounting to billions.

There are also some reports of ghost teachers in Fata who were even promoted on paper. When the education department investigated these fake appointments, it realised thousands of teachers were 'hired' for Fata but at a time when most schools were closed in the area.

No advertisements were published for the hiring process. Officials appointed and promoted these ghost teachers using fake documents. A FATA Secretariat insider said there was a need to verify teachers' documents. He added the K-P education directorate was also thinking about re-verifying such documents for teachers said to be serving in the province.

Battle on the streets

As teachers and officials remain engaged in a cold war over upgradation and promotion, children suffer, out-of-school children might be in the millions. The governor who initiated the drive will also suffer as he is seen as the big push behind an as yet failing initiative.

Published in The Express Tribune, April 30th, 2016.
COMMENTS
Comments are moderated and generally will be posted if they are on-topic and not abusive.
For more information, please see our Comments FAQ