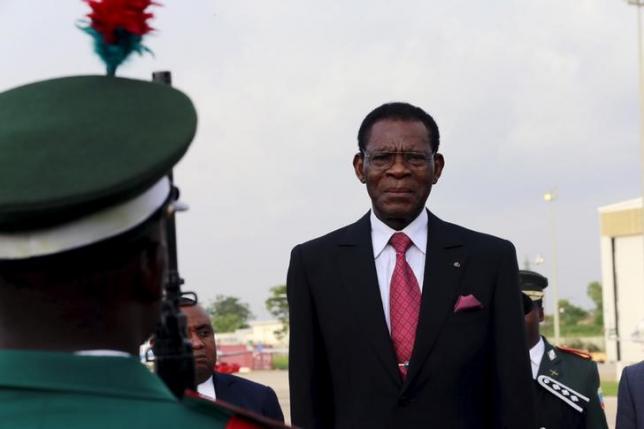 ---
MALABO, EQUATORIAL GUINEA,: Africa's longest-serving leader, Equatorial Guinea's President Teodoro Obiang Nguema, extended his 36-year rule Thursday after being re-elected with 93.7 percent of the vote, according to provisional results.

The results announced by the National Election Commission showed his two closest rivals, Bonaventura Monsuy Asumu and Avelino Mocache Mehengap, trailing far behind with 1.5 percent each in last Sunday's vote.

S.African students want apartheid's 'Dr Death' barred from teaching

Turnout in the oil-rich west African country was also 93.7 percent, according to the results which are subject to confirmation on May 2 by the constitutional court.

Seven candidates ran for the top job but 73-year-old Obiang, who has ruled with an iron fist since 1979 when he ousted his uncle Francisco Macias Nguema and had him shot by firing squad, was seen as a shoo-in.

Commission chief Clemente Engonga admitted to anomalies in some of the results, with the number of votes cast in some areas exceeding the number of registered voters.

Engonga explained this by saying some voters had "probably" been travelling on election day and voted outside of their constituencies.

Death of Nobel committee head who honoured Mandela

"These were the worst elections ever organised in this country," unsuccessful candidate Bonaventura Monsuy Asumu said, adding that the vote had been marked by widespread fraud.

Running for the fourth time, he told AFP he had visited polling stations where no ballot slips were to be found on polling day.

The Democratic Opposition Front (FOD) coalition of dissident groups had boycotted the vote, saying it would be rigged.

Obiang, heading a coalition of 10 parties that includes the ruling Democratic Party of Equatorial Guinea, had said on Sunday that his country was "a benchmark in democratic terms".

At the last election in 2009, he claimed 95.37 percent of the vote.

Initially planned for November, Sunday's election had been delayed by presidential decree, with no explanation.

Another unsuccessful candidate, Gabriel Nse Obiang Obono, told AFP on Tuesday that he and 200 of his supporters had been barred from leaving his residence in the capital Malabo since the previous Friday.

The army and police had launched an assault on Obono's house in southern Malabo on Thursday night, using live ammunition against supporters of his Citizens for Change (CI) party, the opposition and local residents said.

Some 15 of his supporters were arrested in the economic capital Bata and Obono had not heard from them in several days.

South African students win university language victory

Obiang's regime has frequently come under fire from human rights groups for suppressing dissident voices and the media, as well as for widespread corruption.

Equatorial Guinea has become sub-Saharan Africa's third biggest oil producer in recent years, with oil revenues accounting for more than 70 percent of national income.

But the wealth has not trickled down. While per capita national income stands at over $10,000, more than half the population lives on less than two dollars a day.
COMMENTS
Comments are moderated and generally will be posted if they are on-topic and not abusive.
For more information, please see our Comments FAQ