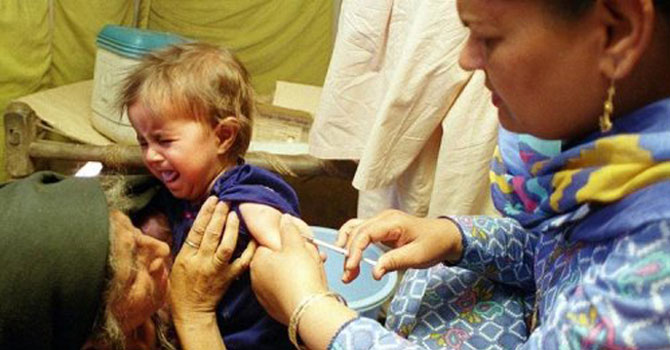 ---
PESHAWAR: The Khyber-Pakhtunkhwa government after countering immense resistance implemented the Medical Teaching Institution (MTI) Reforms Act, 2015 in tertiary hospitals with a plan to extend it to district hospitals in the future. While the law empowers health institutions and offers attractive packages to employees, it has failed to benefit people who still have to travel long distances for basic health facilities.

The MTI Reforms Act, 2015 has till now proved to be rather useless as far as protecting people—particularly children—from various health risks and fatalities is concerned. Health experts have been repeatedly identifying various loopholes and emphasising on the need for government to focus on other killer diseases with the same fervour as it exhibited when dealing with poliovirus.

It was not until recently when at least six children lost their lives to measles in Shangla that the government launched a campaign to address the issue.

Shifting priorities

According to data available with the health department, 13,929 suspected measles cases were reported from K-P in 2015.

On different occasions, experts criticised health officials for involving staffers of the Expanded Program on Immunization (EPI) in polio drives.

They said this was one of the reasons why other diseases which pose a serious threat to children are still dominant. EPI technicians have not been performing their core duty as almost all of them have been involved in polio campaigns—inoculating children against the crippling virus.

Need for staff

Experts have repeatedly advised the government to increase the number of EPI technicians so besides being involved in polio drives, they can continue with their obligations and vaccinate children against other deadly diseases.

The provincial health department is facing a shortage of EPI technicians and recently, during a polio campaign, 156 technicians were involved but almost all of them had been requested from other districts. The government plans to induct 128 technicians this year and more in 2017.

Previous ineffective attempts

In 2014, a massive campaign was carried out where 9.8 million children were vaccinated against measles, however despite having utilised all the resources, the drive seemed ineffective and measles seem to have surfaced in the province once again.




On April 24, a 12-month-old boy died of measles, raising the death toll to six in Alpuri in Shangla. In a separate incident, four-year-old Ejaz also succumbed to the same disease in Shodani, Jamrud tehsil of Khyber Agency. Moreover, official data collected by the health department revealed 1,025 cases of suspected measles have been reported across K-P in 2016 and 10 have been confirmed from Shangla district alone.

Apart from a confirmed case from Nowshera, the disease seems to have been hitting the northern areas since majority of the cases were confirmed from Malakand which were referred to National Institute of Health (NIH).

Compelled to act

It seems disaster is always needed for government to creak into action. After lives were lost in Shangla and hundreds of suspected cases emerged, the district's health department cautioned the provincial headquarters to launch a campaign against the disease.

A massive campaign was carried out on April 26 where according to officials, 800 children were vaccinated against measles. On the second day of the drive, high-risk union councils including Alpuri, Pirabad and Lenolai were targeted for inoculation. At least 18 people are currently carrying out the campaign including staff that was sent from the provincial capital.

Shangla health officials claim the situation is under control, which however, does not match the ground.

Measles is a disease in which red marks appear on the body of the affected children.

They are also diagnosed with fever. According to health specialists, children who complain of such a condition should be immediately taken to a hospital for treatment.

Published in The Express Tribune, April 29th,  2016.