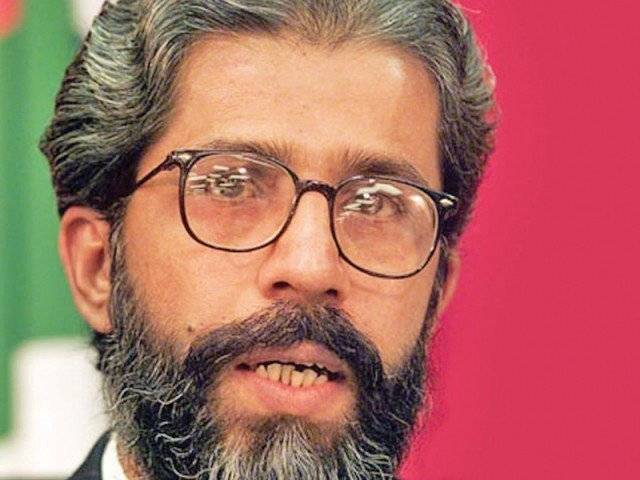 ---
ISLAMABAD/ KARACHI: A suspect in the Dr Imran Farooq murder case has hinted at the involvement of Altaf Hussain in the MQM leader's assassination, saying Mustafa Kamal had told him about being threatened by the MQM chief.

In a video recorded allegedly in his Adiala jail cell, Khalid Shamim called upon Karachi's ex-mayor to tell the investigators about the episode when he went to London to bring back Dr Imran's body.

ATC refuses to hear Imran Farooq murder case

"I have already told Scotland Yard and Pakistani authorities you [Kamal] were given threats by Altaf," the prisoner says. "With due apology, I told them what you shared with me and I also want you to tell them this as well."

Khalid, who was arrested in June last year after going missing in January 2011, said Altaf called Kamal and said to him: "kaam tou acha hogya (the job has been done well)", apparently referring to the murder of Dr Imran, a senior MQM leader who was killed in London in September 2010.

He claimed the MQM supremo was also uncomfortable with the popularity among workers of the then Karachi mayor.

Altaf considered Kamal as his competitor and felt that the former senator wanted to take his place, Khalid said, adding Altaf had hinted to Kamal that anyone who betrayed him would face similar consequences.

Imran Farooq case: Key suspects admit role in MQM leader's murder

The murder suspect also requested Kamal, who recently launched his own Pak Sarzameen Party, to help him get released from jail in return for some favours, which he claimed to have given Kamal in the past.

"I need a residential place in Islamabad, (on the basis of which) I can file an appeal for house arrest," said Khalid, who is currently on judicial remand and awaiting trial. "Since you are working with Malik Riaz, it is not an issue for you to arrange such a place for me in Islamabad. I hope you will respond positively."

Who let the video out?

Reacting to the leaked video, the MQM has once again put up questions on who could record a video inside a jail and who might have leaked it on purpose.

"We have some questions about this video," said Dr Farooq Sattar while addressing a news conference.

Pakistan to prosecute Imran Farooq murder suspects

Terming the video "a media trial" of the party, the MQM leader questioned who had recorded Khalid's video and who gave it to a news channel. "Who gave the script to Khalid Shamim that he was reading? Who is behind it?" he asked. "Such conspiracies have surfaced in the past but we remained quiet on them. This time, we will demand answers."

He added such videos affected the interrogation and investigation of high-profile cases, claiming an "unannounced operation" has been initiated against the MQM.

Inquiry ordered

Taking notice of the video recording, Interior Minister Chaudhry Nisar Ali Khan has ordered an investigation to determine how a video could have been recorded inside the prison.

The interior ministry spokesman said the inquiry would find out if the prison management assisted in the video-making process. The report has been sought within two days.

A similar video against the MQM leadership from inside a jail cell was leaked last year as well. MQM's notorious hit-man Saulat Mirza appeared on media hours before his hanging on March 19 last year, accusing Altaf of ordering assassinations through Babar Ghauri.


Published in The Express Tribune, April 29th, 2016.
COMMENTS (10)
Comments are moderated and generally will be posted if they are on-topic and not abusive.
For more information, please see our Comments FAQ