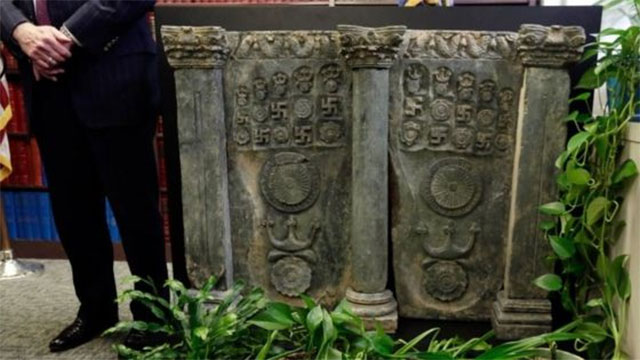 ---
NEW YORK: A precious sculpture of Buddha's footprints carved in stone that was smuggled into the United States was returned to the government of Pakistan at a ceremony in New York on Wednesday.

The 440-pound piece, called a Buddhapada, was recieved by Deputy Chief of Mission at Pakistan Embassy in Washington, Rizwan Saeed Sheikh, on behalf of the Pakistani government.

US to return smuggled Buddha sculpture to Pakistan

The sculpture was presented by Manhattan District Attorney Cyrus Vance whose office recovered it in a sting operation after an intensive investigation.

Sheikh thanked Vance and his team stating the artifact was "an important element of the rich cultural history of Pakistan" and he was relieved to have it returned.




The Pakistani diplomat said the sculpture valued more than $1 million would remain here under protective custody until arrangements were made to transport it back to Pakistan. He also indicated that it may be exhibited at a local museum.

The Death Scene of Buddha: Back from the dead

Wednesday's event, he said, gave a new dimension to the multi-faceted relationship between Pakistan and the US.

The repatriated piece is a large stone slab with columns and two large footprints. Within the footprints are symbols that denotes auspiciousness.

"This sculpture and others like it are so much more than commercial property, they represent ancient pieces of history and culture that should be celebrated and vigorously protected," District Attorney Vance said while addressing the ceremony.

The artifact was taken from an archaeological site in Pakistan's Swat region in the 1980s.

A Japanese antiquities dealer pleaded guilty last month to criminal possession of stolen property in a scheme to smuggle it into the US Tatsuzo Kaku made the plea in exchange for a $5,000 fine and a sentence of time served and left the country voluntarily.

Remnants of Buddhist era settlement found in Sherwan Khurd

He said he shipped the 2nd-century Buddhapada from Tokyo to New York to sell it at a gallery, where it was expected to sell for $1.1 million. He said he knew it had been excavated and removed from the Swat River valley in 1982.

US officials said that the Buddhapada is "so much more than a piece of property."

"It's an ancient piece that speaks to the history and culture of Pakistan that should be celebrated and protected," Vance said.