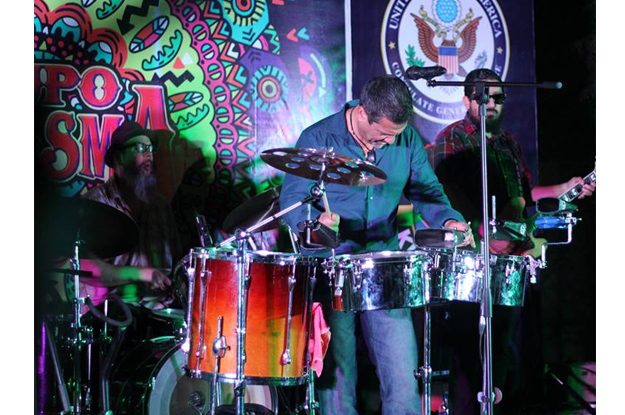 ---
LAHORE: A Grammy Award-winning group Grupo Fantasma performed at an event at the Lahore College of Arts and Sciences on Tuesday. The event was organised in collaboration with the United States consulate general.

The performers of Latin American music are touring Pakistan. They have earlier performed in Karachi and Islamabad. This is their fourth performance in Lahore. Group members said the audience had tried to engage with their music even though it was in Spanish.

The group has a female sound and tour manager.

Alexandra Diaz-Hall has been in the business for 10 years. "Throughout my career, I have met probably 15 women who are sound managers. By comparison, there are around 3,000 men in the field," she told The Tribune. She said she controlled the sound the audience hears.

She said men in the field often had preconceived notions about her capabilities. "They don't think you can be as capable [as them]. Often, they think they aren't sexist but still behave in a condescending or patronising manner," she said.

Diaz-Hall said she had studied music and had worked with "dozens of bands" before she started working with Grupo Fantasma in January. She said she was hired specifically for the tour.

"In Pakistan, being a female sound manager is as much of an anomaly as it is in the US. But the technical staff here is respectful and open to learning from me. It's a little better," she said.

She also spoke on some apprehensions about sound technology musicians had voiced.

"The technology is not as up to date even though sound boards are the same across the world," she said. "It is the enthusiasm of the singers, producers and technical people that will really help the industry grow."

"There are lots of ways one can learn to improve. The internet is a good place to start," she said.

She said she would like to see more women in Pakistan join the field.

She said she could be contacted at decibellas audio production, her Facebook page, for advice.

Introducing the band, Public Affairs Officer at the US Consulate Rachel Chen said the group consisted of nine members.

"It was formed in Austin, Texas in 2001. It had Jose Galeano on timbales and vocals, Kino Esparza on vocals and hand percussion, Beto Martinez on guitar, Greg Gonzalez on bass, John Speice on drums, Matthew "Sweet Lou" Holmes on congas, Gilbert Elorreaga on the trumpet, Josh Levy on the baritone saxophone and Mark Gonzales on the trombone."

Amna Omar from the LACAS explained the idea behind LACAS Mein Kuch Khaas.

"We wanted a space where different cultures interact through music," she said.

Omar said they had conceived the platform to provide learning opportunities outside of classrooms.

"We have become regressive not because we don't study enough but because we don't talk enough," she said.

"We want to cut through barriers of class, gender and language through this platform," she said.

Published in The Express Tribune, April 28th,  2016.