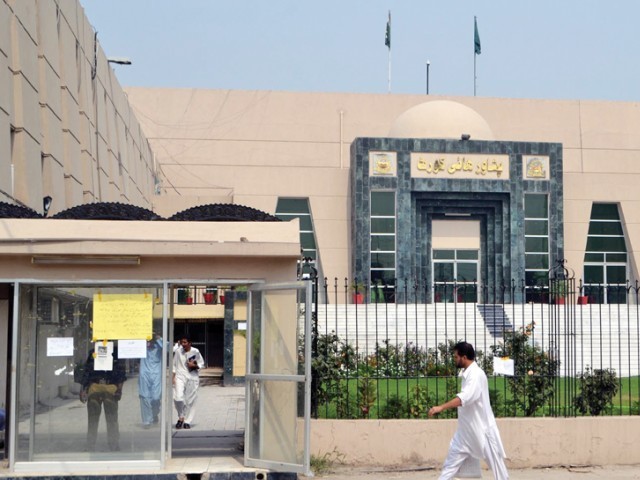 ---
PESHAWAR:



Some lawyers of the Peshawar High Court protested on Wednesday outside the courtroom of the chief justice and district and session judge Shahid Khan for sentencing a lawyer in a contempt of court case.




The lawyers did not appear before the courts after they announced boycott of the proceedings.

The lawyers said sentencing Fakharyab Khan to a month in prison for contempt of court was illegal. They said no rules were followed and he was not given a chance to defend himself.

The boycott was observed on the call of Khyber-Pakhtunkhwa Bar Council in a meeting. Senior lawyers, including Fida Gul, Qazi Jawwad Ihsanullah and Muhammad Ayaz Khan, were among the protesters.

Later, they took out a procession within the premises of PHC, marching to the Judicial Complex where they protested outside the court of district and session judge Shahid Khan and removed the nameplate bearing his name.

At least 200 lawyers then marched towards the chief justice's courtroom and shouted slogans against him.

In a fix

When the chief justice commenced hearing cases, he remarked that what the lawyers did could not be justified. Senior lawyers, including Moazzam Butt, then appeared before the chief justice and complained of being caught in a difficult situation.

"The bar council issues show-cause notices and threatens us with cancellation of licences if we appear before the bench in such situation," Butt said. Chief Justice Mazhar Alam Miankhel asked him to inform him if he was issued a show-cause notice.

Cause of protest

According to Miankhel, Fakharyab misbehaved with a judge and accused her of corruption. He added the lawyer failed to prove the allegations, thereby committing contempt of court for which he was sentenced after following procedure.

The chief justice maintained judges supported lawyers when the issue is genuine, but if the lawyers boycotted courts over such matters, the system will fail. "If we cannot protect our judicial officer then we have no justification to sit [here]; they are our daughters and we have to protect them," Miankhel said.

He added the bench was not informed in writing about the strike and hundreds of cases which were fixed for hearing could not proceed, affecting thousands of litigants.

However, the lawyers said as per rules if one of them is guilty of misconduct, then his case should be sent to the bar council for action. To this, the chief justice promptly replied, saying, "Unfortunately, hundreds of complaints against lawyers were pending before the council but it has been doing nothing."

Miankhel added, "Everything will be decided on merit and we will not surrender – if you want us to run the system like this, then I along with my other judicial officers will leave and you [may] run the system."

Published in The Express Tribune, April 28th, 2016.