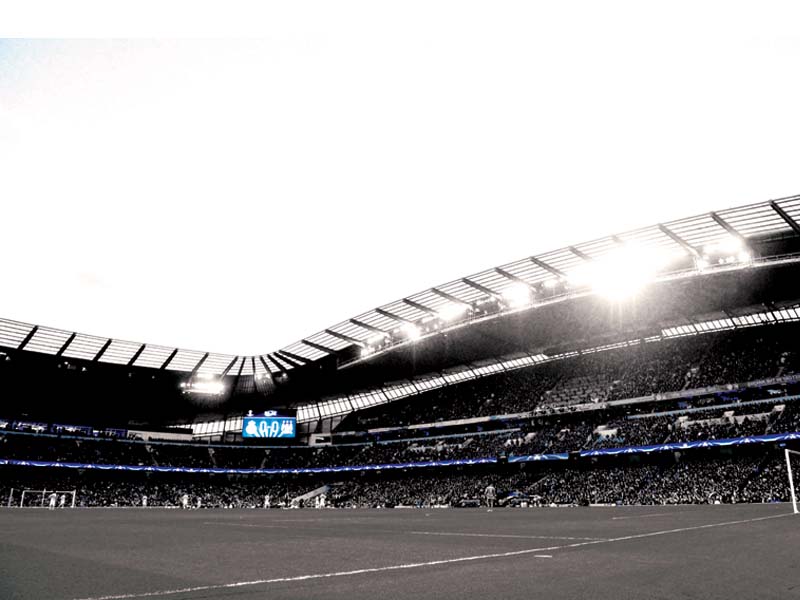 ---
KARACHI:



While Real Madrid seemed to miss Champions League top-scorer Cristiano Ronaldo in the first leg of their goalless semi-final against Manchester City, they go into the second leg with a slender advantage over Manuel Pellegrini's semi-final first-timers.




Despite playing in front of a vehement and vociferous Etihad Stadium, the Citizens found it hard to break Real, who, on the other hand, enjoyed the larger share of the possession (54.7%) and, had it not been for the heroics of goalkeeper Joe Hart, would have managed to go home with more than one invaluable away goal.

City were playing their first-ever semi-final against 10-time European champions; naturally, their nervousness was expected. But given the fact that they have abundant world-class talent at their disposable, they were expected to overcome those jitters and rise up to the occasion; something they simply fell short of.

Man City 'not afraid' of Real Madrid, says Pellegrini

Real controlled the game throughout, registering 13 shots in total in comparison to City's four, and had three clear chances to score.

City, on the other hand, did not create even one clear goalscoring opportunity — not the kind of performance you expect from a team vying to bring home the Champions League trophy, and had their goalkeeper to thank for keeping them in the game.

They had their backs against the wall for the entire duration of the match and looked as if they were the ones happy to take a draw to Santiago Bernabeu next week. And listening to Pellegrini after the match, he certainly was happy with the result.




"We played a very intense game and defended well," said Pellegrini, according to AFP. "This season we have played very well away. Now we go to the Bernabeu with the same attitude as playing at home."

While the Chilean is right that the second leg would be a more open affair with Real opening up to try to get the winner, allowing City the chance to punish them on the counter; taming Real at the Bernabeu is easier said than done.

With manager Zinedine Zidane confident that the injured duo of Ronaldo and Karim Benzema, who went off at half-time against City, would be able to play in the second leg, Real will have the bite in their attack that they, so visibly, lacked on Tuesday.

New kids on the block take on the big boys

What must City do?

If the plan was to take a goalless draw to Madrid, then it can be argued that City are right in replacing Pellegrini with Pep Guardiola in the summer because going to the Bernabeu with nothing as back-up is pure suicide.

Real will certainly go for goal in the second leg as was evidenced by Zidane's claim that 'Real go into every match looking for a win', and City must find a way to firstly stop Ronaldo and co from scoring, and secondly, find a goal for themselves.

The problem for City is that they are unable to follow one strategy. If they go for a counter-attacking approach and, despite all their efforts, find themselves a goal down, then they must open up and risk conceding more goals.

Another Madrid final still possible in Champions League

On the other hand, if they go for a more attacking approach and play a high line, they put themselves in another risky position where even the slightest of errors could be punished lethally.

And knowing the attacking potential of Madrid, they rarely miss.

Pellegrini, despite his insistence that City are still in the game, knows the trip to the Bernabeu will be extremely difficult. He must prepare his men to be able to take punches and still stand strong. He must prepare his men to take the fight to Real.

If not, then Zidane's Galacticos, who already have their noses slightly in front and are favourites to progress, will confirm their place in the final in Milan.

Published in The Express Tribune, April 28th, 2016.

Like Sports on Facebook, follow @ETribuneSports on Twitter to stay informed and join in the conversation.