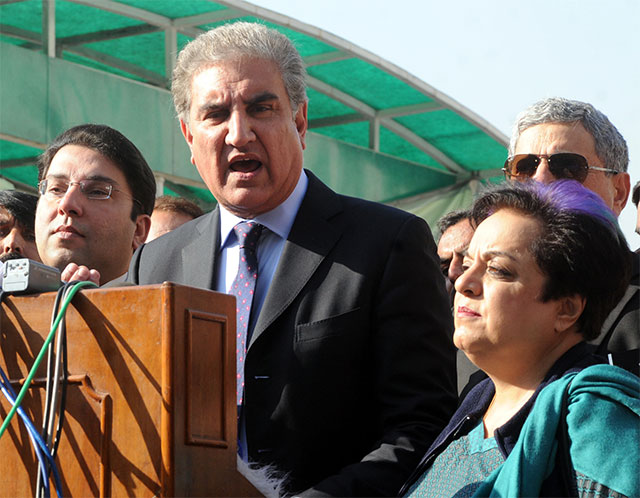 ---
HYDERABAD: The Pakistan Tehreek-i-Insaf (PTI), which has launched a campaign to galvanise public opinion in Sindh against corruption, held rallies in Mirpurkhas and Sanghar on Wednesday.

PTI leaders Shah Mehmood Qureshi and Dr Arif Alvi appealed to the people to 'rise up against the corrupt political leadership'. "People pay billions of rupees in taxes but this wealth of the nation is being mercilessly plundered," said Qureshi, the party's MNA from Multan, while addressing supporters outside Mirpurkhas Press Club.

He argued that the existing system has forced people into a state of psychological slavery. he assured.

Jahangir Tareen denies any loan write-offs




Qureshi asked Sindhis to stop fearing the government, and urged them to support new political groups and reject politicians implicated in corruption and bad governance. "For the sake of your rights, you should stop bowing down your heads," he asked them.

Alvi, the party's MNA from Karachi, pointed to the lack of education, health, employment and infrastructure facilities in Sindh to press the people to 'wake up'. He claimed that around 50,000 children die every year in Sindh by drinking unclean water, and that around 25,000 teachers exist only on paper in hundreds of ghost schools across the province.

"The corrupt people have stashed about $200 billion of looted wealth from Pakistan in Swiss banks while actual sums lying in foreign banks is over $1 trillion," he claimed. He said even finance minister Ishaq Dar acknowledged that Pakistan can pay off all its debts if this money can be retrieved.

PTI's Haleem Adil Shaikh accused the police of preventing people from coming to the rally. The party began its anti-graft campaign in Sindh from Thatta on April 26. PTI chief Imran Khan is expected to address a public meeting in Sukkur on April 30.

Published in The Express Tribune, April 28th,  2016.
COMMENTS
Comments are moderated and generally will be posted if they are on-topic and not abusive.
For more information, please see our Comments FAQ