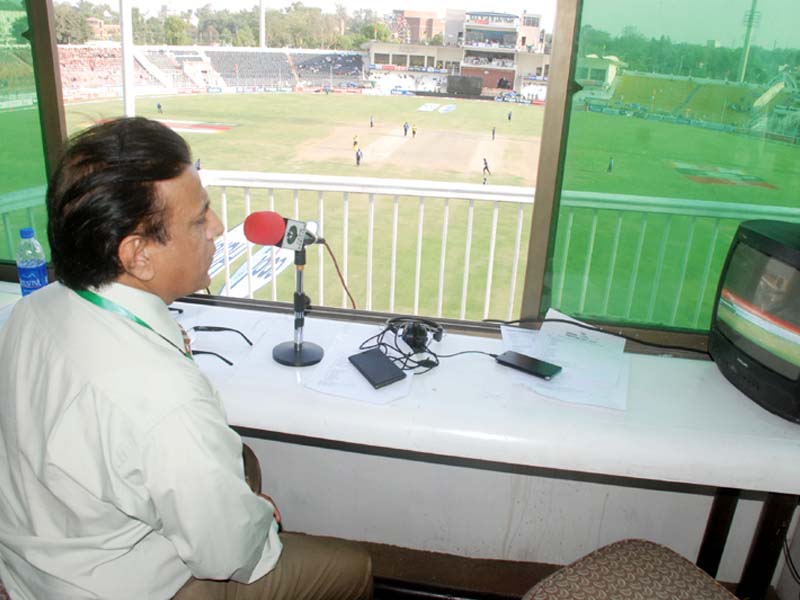 ---
FAISALABAD: At a time when live television broadcast of cricket matches is all the rage, there is one man since the last 21 years who has been captivating an audience that is either unable to access TV or simply prefers an alternate medium for their entertainment needs. It would be hard to find someone who has not heard the voice of Raja Asad Ali Khan on Radio Pakistan.

Asad, who began his career as a cricket commentator from Faisalabad in 1995, remembers his first commentary while sitting in the same radio box that is currently being used to commentate in the ongoing Pakistan Cup.

Controversy ends: Radio Pakistan inks accord with FM107

"The second Test match between Sri Lanka and Pakistan in 1995 was my first appointment as a commentator by Radio Pakistan," recalled Asad while talking to The Express Tribune. "Sitting in the commentary box for an international match is a feeling that only a few get to experience."

Involvement in radio, writing and cricket dates back to the 1930s in Asad's family, with two generations before him having being a part of the said fields. The commentator's interest in cricket, however, outweighs his father's.

He not only played cricket for clubs and U19 teams, but also possessed a journalism background and joined radio in 1989 during the U19 series against India as a 'trial booking'. After working as a commentator in trials for a good six years, he was hired by the same Radio Pakistan for not only domestic but also international matches.

"When I was seven, my father, who was the producer of Radio Pakistan, took me along with him one day and asked me to commentate on a hockey match," he recalled. "This was a great experience not only for me but for the listeners as well. That was the point when I made up my mind for a career in cricket commentary."

Radio silence kills news, entertainment in Wana

Asad has been a regular commentator in the coverage of matches by Radio Pakistan. He has been on 12 international tours and while comparing radio and television, said that no matter how much coverage TV provides, it can never kill the grace of radio.

"Presenting the situation on the radio is a great art, you have to draw a sketch of the scene in the mind of the listener through the choice of words and way of expressing," said Asad while adding some of words he uses in his commentary.

"'Gaind dandanati hoi boundary se bahar (ball streaking out of the boundary), 'tamashaion ka thattay marta samandar (a boisterous sea of spectators) and 'thandi hawa chal rahi, suraj chamak raha (a cool breeze blowing as the sun shines forth)' are some words that describes the beauty of Radio commentary," he said.

Asad emphasised a commentator should enjoy the game if he wants his narration to strike a chord with the listeners. "Good words and terms come to you only if you enjoy the game and can express what you feel."

He revealed that most of the commentators enjoy describing the match when Shahid Afridi is batting. "The condition of the bowlers and Afridi's penchant for hitting sixes are the most exciting moments in my career to date. He not only entertains the spectators but also the commentators," he added.

Radio ki kahani: Abidi for revival of radio listening

The audience's take

The recipients of the exciting and picturesque commentary believe that radio is a blessing for them.

A guard manning a general store outside Iqbal Stadium in Faisalabad shared that the unavailability of TV bounds him to listen to radio. "I do want to watch the match, but often have to rely on listening to the proceedings in my working hours," he said. "The way Asad and other commentators describe every ball, it seems like I am watching the match."

Meanwhile, police officer Ghulam Bashir, who hails from a village near Faisalabad, said that he has been listening to radio commentary since his childhood and is now addicted to it. "We didn't have TVs in our village," shared Bashir. "Many villagers at a time used to gather around a radio and listen to the match. Now even if I watch matches on TV, I would still rate radio higher on my entertainment priorities."

Published in The Express Tribune, April 28th, 2016.

Like Sports on Facebook, follow @ETribuneSports on Twitter to stay informed and join in the conversation.
COMMENTS
Comments are moderated and generally will be posted if they are on-topic and not abusive.
For more information, please see our Comments FAQ