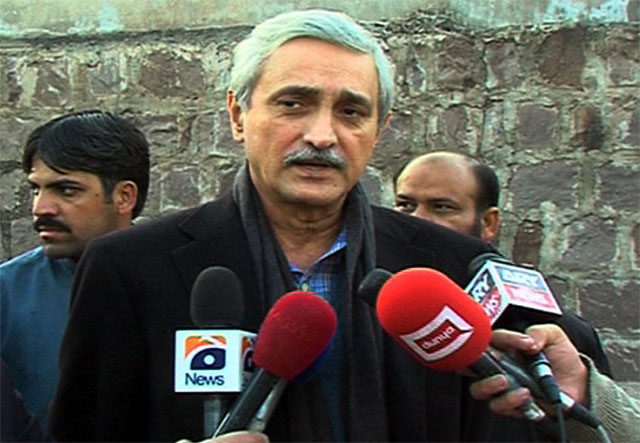 ---
ISLAMABAD: Pakistan Tehreek-e-Insaf leader Jahangir Tareen has denied getting loans written off for his companies as alleged by the information minister a day earlier, citing a letter from the State Bank.

Pervaiz Rashid had said Imran Khan was not accepting the government's terms of reference for the Panama leaks commission only to save Tareen from the graft inquiry. Referring to a State Bank document, the minister accused the PTI leader of getting Rs49.8 million of loans against his several companies waived off from various banks.

PTI leaders declare assets

On Tuesday, Tareen hit back at Rashid, saying he never got any loans written off in his entire life.

He accused the media cell of the Prime Minister House of running false stories about him.




"I took part in elections in 2002, 2008, 2013 and 2015 but no one challenged my election on these issues," he said. The letter the information minister is referring to was taken back by the State bank with an apology in 2013."

Tareen vowed to provide all evidence of mudslinging against him to the media with proof. "I will tell the name of the officer in the PM House media cell who is spreading these news stories by contacting journalists," he said. "This media cell cannot save its corrupt prime minister from the Panama leaks scandal."

Imran opposing ToRs to save Tareen, says Pervaiz

Talking to a television channel, the PTI leader said he had given the State Bank's clarification letter to the media. "The PML-N is in trouble and wants to save its leader through propaganda and false news stories against others," he said.

He added he paid Rs250m as income tax during the past five years. "How much did Nawaz Sharif and Shahbaz Sharif pay?" Tareen questioned. TRANSLATED BY ARSHAD SHAHEEN


Published in The Express Tribune, April 27th,  2016.