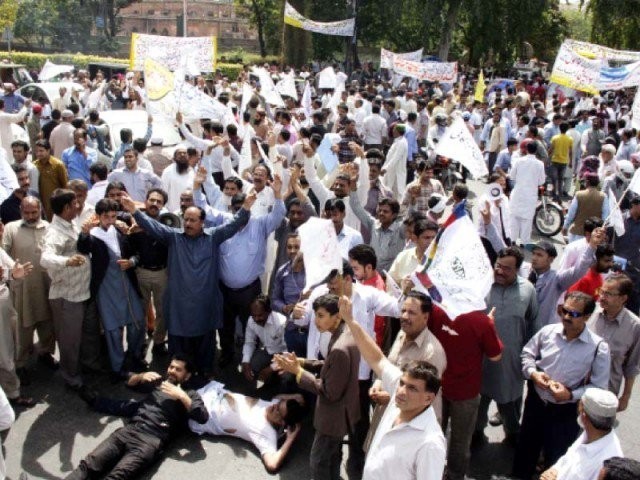 ---
FAISALABAD: Scores of employees of Irrigation, Health, Education, Livestock and Agriculture Departments held a protest on Tuesday to demand a 50 per cent raise in their salaries in the budget to be announced for the fiscal year 2016-17. The protesters were members of the All Pakistan Clerks' Association (APCA).

The protesters threatened to stage a demonstration at the Parliament House in Islamabad if the government did not accede to their demand.

The protesters held up banners and placards and walked on various roads up to Chiniot Bazaar Chowk. They also held a sit-in protest at Zila Council Chowk and blocked University Road for traffic. APCA Punjab divisional secretary general Habibur Rehman Khan Lodhi said the budget for the fiscal year 2016-17 would be announced in June but the government had not made an announcement regarding a raise in wages and other benefits of employees. "Employees, especially Class-IV employees are under great financial stress."

He said that government employees worked hard. "Far from giving us incentives and relief, the government has not even regularised employees hired on contractual basis or revised their pay scales according to the rate of inflation."

There is an unprecedented hike in prices, he said. "It has aggravated the miseries of people hired at low salaries…privatisation of government departments will be tantamount to financial murder of Class-IV employees."

He said the government must take steps to control the price hike and raise their salaries by 50 per cent in accordance with the prices. "We also deserve fringe benefits, incentives and allowances."

Lodhi said that APCA members would lock out their offices and hold pen-down strikes if the government ignored their demand for a raise in salary.

He demanded regularisation of contractual employees of the Zakat and Ushar Department from their date of recruitment. "All technical and clerical employees of Grade-1 to Grade-16 should be upgraded from January 1."

He said employees of Grade-1 to Grade-4 should be upgraded to Grade-7. Technical and clerical staff of Grade-1 to Grade-16 should be given time-scale promotions after every five years instead of 10 years, he said.  The protesters also shouted slogans against privatisation and said they would not allow the government to sell off government-owned enterprises and departments.

Published in The Express Tribune, April 27th,  2016.