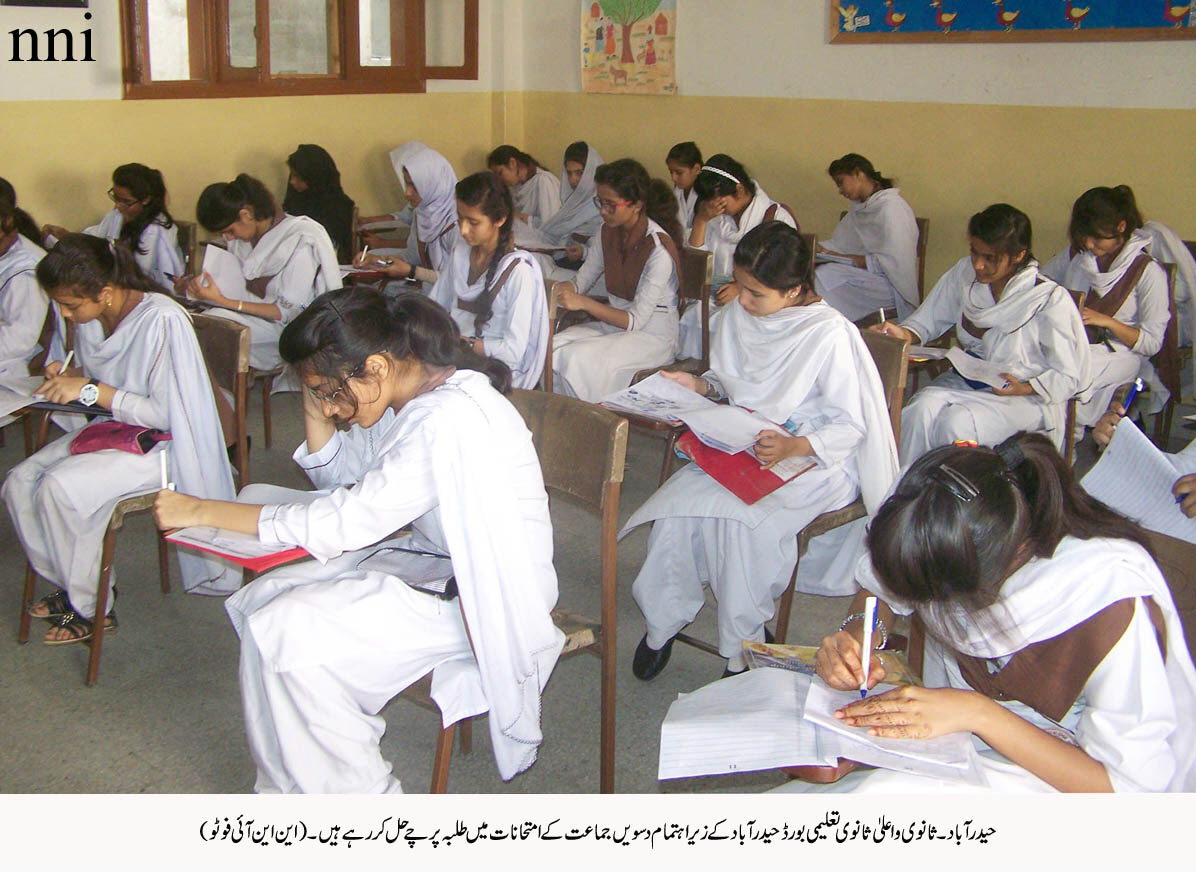 ---
KARACHI: Declaring as many as 17 examination centres in the city 'most sensitive', Board of Intermediate Education, Karachi, (BIEK) chairperson Akhtar Ghori announced plans to cope with the security and cheating issues in the annual examinations of 2016.

While certain centres have been declared sensitive to cope with security issues, for the first time in the history of BIEK, an information technology (IT) team has been tasked with keeping an eye on the 'cheating mafia'. Centre Control Officers (CCOs) have been provided 100 smartphones to send pictures of admit cards of suspicious students through WhatsApp so the IT team at the BIEK office can verify them.

Exam time: Fifty-four cheating cases registered by BSEK vigilance teams




Revealing the preparations regarding the examinations, Ghori said 29 and 26 centres have been declared 'sensitive' in the morning and evening respectively, while 17 have been declared 'most sensitive', keeping in view political, ethnic and other past incidents.

External centre superintendents have also been appointed for three centres - Murad Memon Goth, Gadap and SM Arts and Science College - from where complaints were received last year, said Ghori.

"The board has also formed 30 vigilance teams consisting of four members, with a senior professor and headed by the chairperson, to look after the centres," said Ghori. Meanwhile, two more teams have been set up at the BIEK office while another will operate from the control room at the Commissioner's Office, which will handle vigilance teams that can be moved in any emergency such as in the case of cheating complaints or clashes.

Dates and timings

The annual examinations for classes 11 and 12 of pre-engineering, pre-medical, home economics, medical technology, commerce and general groups will start from Thursday and continue till May 19 in the first phase, while regular and private exams for humanities will be held in the second phase from May 23 till June 9.

Exams of science, home economics and medical technology groups will be conducted in the morning between 9:30am and 12:30pm while those of the commerce group will be held between 2:30pm and 5:30pm.

The right approach: Sukkur IBA creates a ray of hope for honest students

Demographic distribution

Talking about the total number of registered students, Ghori said out of the total 98,640 registered candidates in the morning group, 51,435 are male while 47,205 candidates are female. Meanwhile, the total registration of the evening group is 80,014 with 44,889 male candidates and 35,125 female ones.




The number of examination centres for science and general groups is 112, with 61 specified for males and 51 for females. Meanwhile, 100 centres have been set up for commerce examinations, with 56 for male and 44 for female students.

Facilities

Talking about the facilities ensured at the centres, Ghori said the board has written letters to K-Electric and the water board to provide uninterrupted supply of electricity and drinking water during exam hours. "BIEK will provide water to the centres if needed as the weather is hot and there is also a heatwave warning," said Ghori.

Imprisoned student

"A special centre has also been set up at the Central Jail for a pre-engineering student of Aisha Bawany College who was jailed recently," announced the chairperson, adding that special arrangements will also be made for the student to take his practical examination.

Section 144

According to Ghori, Section 144 will be imposed in and around the examination centres after the home secretary's approval on the request of the board, restricting any external and internal involvement. Photocopy shops situated near the centres will also be closed during examination hours. "No unauthorised person will be allowed within the radius of 400 metres of the centre," said Ghori.

Published in The Express Tribune, April 27th,  2016.
COMMENTS
Comments are moderated and generally will be posted if they are on-topic and not abusive.
For more information, please see our Comments FAQ