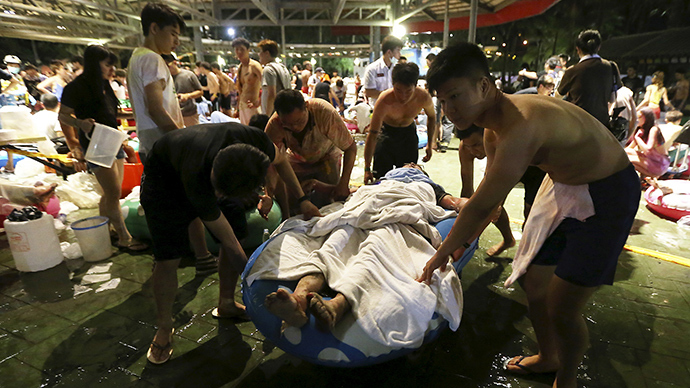 ---
TAIPEI: The organiser of a party which saw a fireball rip through a Taiwan waterpark, leaving 15 dead and hundreds injured, was jailed for almost five years Tuesday as the court cited the "excruciating pain" of the bereaved.

Lu Chung-chi, owner of Colour Play Asia, was behind the event at which coloured corn starch being sprayed on around 1,000 partygoers ignited under the heat of stage lights last June, sending them running for their lives.

Feb 6 tremor: Over 100 dead in collapsed Taiwan building

Almost 500 were injured in the blast at Formosa Fun Coast, more than 200 of them seriously. Horrific video footage showed revellers -- mostly aged between 18 and 25 -- screaming as they tried to escape the raging flames.

Some were left with more than 90 percent burns, in some cases leading to amputations. The only undamaged skin on some survivors' bodies were the parts covered by swimsuits.

Although all have now been released from hospital, many are still enduring painful rehabilitation treatments and surgery.

Lu, who was not in court, was found guilty of negligence causing death at Taipei's Shihlin district court as relatives of victims gathered outside waving banners calling for justice.

A statement from the court after the verdict paid tribute to the young victims of the tragedy -- and revealed that one bereaved father had taken his own life in grief.

"Most of the victims were very young and their wonderful lives were about to start. They had beautiful dreams to be realised," it said.

Over 100 trapped in collapsed building after Taiwan quake

"Because of the explosion, 15 of them lost their lives and most of the survivors suffer tremendous physical and emotional pain and torment.

"Relatives of the deceased suddenly lost their family members and suffered irreparable and excruciating pain and regret," it added.

The statement said the father of a victim surnamed Wang had committed suicide.

"All of this is enough to show the very serious harm inflicted by the defendant's offence," it said.

The case has angered grieving relatives and the families of the injured as only Lu was indicted over the disaster. He was one of nine people investigated, including the chairman and president of the water park.

The high prosecutors' office told AFP Tuesday it had ordered a district court to reopen the probe into the other eight after an appeal by a group of victims.

Campaigners have urged prosecutors to reopen the investigation. A group of 50 rallied outside court Tuesday, waving banners reading: "Return Justice and Fairness to Me."

Renewable energy: Taiwan firm to invest in solar technology

Most said the sentence was not long enough. The charge of negligence leading to death carries a maximum sentence of five years.

"At least the charges were held up, but this is not enough for the relatives. Four years and 10 months is too little," said Julie Wang, spokeswoman for a victims' association. Her 21-year-old son suffered 55 percent burns.

Medics described the waterpark tragedy as an unprecedented disaster for Taiwan, given the scale and severity of the injuries.

Specialists from Japan were flown in to advise on the treatment of the seriously injured and Taiwan imported metres of skin for grafts.

An investigation showed the hottest parts of the stage lights hit temperatures of more than 1,000 degrees Celsius, while the powder's ignition point was just 500 degrees Celsius.

One mother, Chen Lu-yu, whose student son died in the disaster, called for the "real perpetrators" to be brought to justice.

She said the family had donated her son's organs after his death in the hope that it would enable others to have a "happy and healthy" life.

"I see other families, other people holding grandchildren," she told AFP outside the court.

"My son will never have a chance again. He will never have a chance to live out his dreams."
COMMENTS
Comments are moderated and generally will be posted if they are on-topic and not abusive.
For more information, please see our Comments FAQ