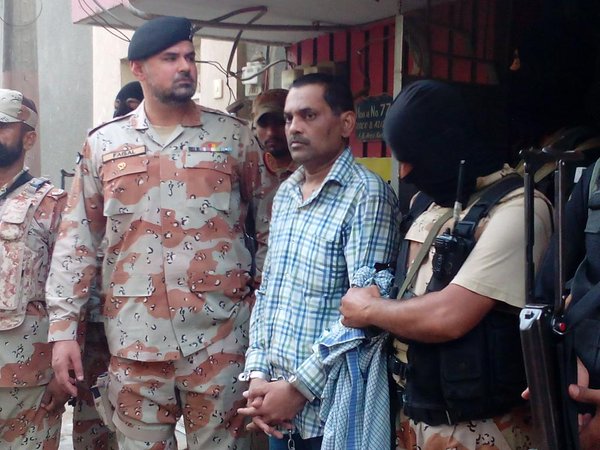 ---
KARACHI: Rangers on Tuesday claimed to have arrested a "target killer" belonging to Muttahida Qaumi Movement (MQM) during a search operation in Azizabad area of Karachi.

"Rangers carried out an intelligence-based raid in Azizabad late on Monday and arrested target killer Kashif alias David," a spokesperson for the paramilitary force told The Express Tribune.

Nine-Zero raid: Rangers to detain 27 MQM suspects for 90 days

"Mohammad Kashif alias David, who belongs to the MQM, is a most wanted criminal in multiple targeted killing and terrorism incidents," Rangers official Colonel Faisal said.

The paramilitary also recovered a large cache of arms and ammunition, including short machine guns (SMGs), rocket propelled grenades (RPGs), rocket launcher, several bullet rounds and Rangers outfits, from a house near More Park in Azizabad on the indication of the accused, the spokesperson added.

The paramilitary force have been tasked to carry out targeted operations to arrest target killers, extortionist and other offenders from the metropolis since the Karachi operation was launched by the federal government on September 5, 2013 in an attempt to purge the port city of criminal elements.

ATC allows 90-day preventive custody of suspect

Later in the day, Rangers produced the alleged target killer before an administrative judge of anti-terrorism court (ATC) and informed the court about taking the suspect into 90-day preventive detention for further investigation.

In March last year, dozens of activists had been apprehended by the Rangers, including senior leader Amir Khan and six alleged target killers and extortionists, during a raid on MQM headquarters. Rangers' spokesperson had said that the raid was carried out on the orders of the Supreme Court and under the powers granted to the force by the federal government.

Second raid of the year: Rangers arrest two in Nine-Zero swoop

After about four months, at least two party leaders had been rounded up, during another raid on the party headquarters, for allegedly instigating people against the paramilitary force. The personnel had also searched various offices around the Khursheed Begum Secretariat and seized some documents. All entry and exit points around Nine-Zero had been cordoned off and no one was allowed inside during the operation.