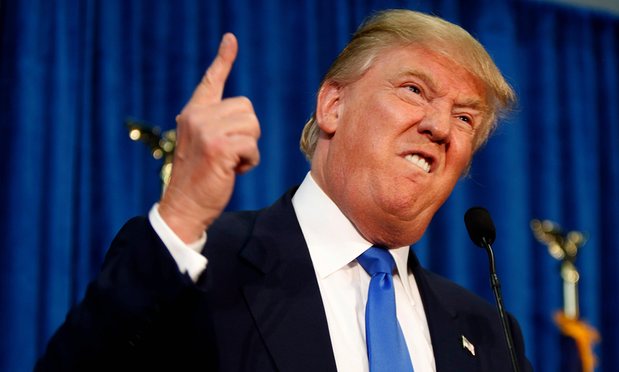 ---
WASHINGTON DC: Republican presidential rivals Ted Cruz and John Kasich have joined forces to deny frontrunner Donald Trump the party's nomination, a controversial move on the eve of Tuesday's critical primaries in five US states.

Embracing the ancient Sanskrit proverb "the enemy of my enemy is my friend," Cruz and Kasich unveiled their late-in-the-game ploy, prompting the celebrity billionaire to accuse them of "collusion" and declare the bid an act of desperation.

Donald Trump uses Indian accent to mock call centre representative

With Trump poised to extend his lead in Tuesday's primaries, Texas Senator Cruz and Ohio governor Kasich agreed late Sunday to what amounted to a non-aggression pact in later primaries.

Kasich will forego vigorous campaigning in Indiana, which votes on May 3, and Cruz will return the favor later in New Mexico and Oregon to try to deprive Trump of victories in those states.

The deal would give Cruz a chance to consolidate support in Indiana, a winner-take-all state where a Trump loss would make it much harder for him to win the nomination outright.

"We're focusing our energy on the state of Indiana and Governor Kasich is focusing his energies elsewhere," Cruz said at a campaign stop in Borden, Indiana.

Cruz justified the teaming up succinctly: "If Donald Trump is the nominee, Hillary Clinton wins" the November election and Republicans lose control of the Senate, he said.

Trump erupted at news of the deal, unleashing criticism on Twitter and assailing the pair at a campaign rally Monday.

"You know if you collude in business, or you collude in the stock market, they put you in jail," Trump boomed in Warwick, Rhode Island. "But in politics, because it's a rigged system, because it's a corrupt enterprise, in politics you're allowed to collude."

"Actually I was happy," Trump added, "because it shows how weak they are. It shows how pathetic they are."

Kasich's campaign said the aim was to open the Republican nominating convention in July in Cleveland so that a unifying figure other than Trump can emerge as the candidate.

Trump, campaign reject charges he is fooling voters

The Ohioan insists he is the only one who could beat Clinton. But his remarks also hinted at how his alliance with Cruz was already fraying.

"I've never told them not to vote for me" in Indiana, he told reporters as he ate breakfast at a diner in Philadelphia. "They ought to vote for me."

"What's the big deal?" he added. "I'm not campaigning in Indiana, and he's not campaigning in those other states. That's all."

He also noted his need to be frugal with campaign resources, saying he did not have "'Daddy Warbucks' behind me giving me all this money."

Both candidates acknowledge their only hope of winning lies in keeping Trump, 69, from gaining the 1,237 delegates needed to clinch the nomination outright.

If he falls short, Trump runs the risk that his delegates, who are bound to vote for him in only the first round of balloting, will desert him on subsequent rounds.

Cruz in particular has been successfully maneuvering in state party conventions to have individuals named to delegate slots who, though bound to Trump on the first ballot, would be sympathetic to Cruz in subsequent rounds when they are free to vote for whomever they choose.

Party heavyweights, alarmed by the prospect of a Trump nomination, have long pressed for a united effort around a single candidate against him.

But Cruz is almost as unpopular with the party's establishment as Trump, and Kasich has refused to bow out even though he has only won his home state of Ohio.

Trump has pointed to the bid to stop him as evidence that the primary system is "totally rigged."

Cruz, Kasich team up to stop party frontrunner Trump

Cruz, perhaps emboldened by the prospect of stopping Trump, has already begun searching for possible vice presidential options.

His campaign chairman Chad Sweet confirmed to CNN Monday that Cruz was vetting several potential vice presidential candidates, and that businesswoman Carly Fiorina, herself a former White House hopeful, "absolutely" was among them.

In an election year that has highlighted voter disaffection with politics as usual, a chaotic convention fight would almost surely damage Republican prospects in November.

The bruising battle is already straining the party and its supporters.

Billionaire Charles Koch, a mega-funder for conservative causes, said in an interview Sunday with ABC's "This Week" that the Republican candidates were "terrible role models" and did not see how he could support them.

Raising eyebrows among Republicans, Koch added it was "possible" Clinton would be a better president.

Trump is favored to win the states that vote Tuesday -- Connecticut, Delaware, Maryland, Pennsylvania and Rhode Island. Clinton is expected to prevail over her rival, Senator Bernie Sanders.