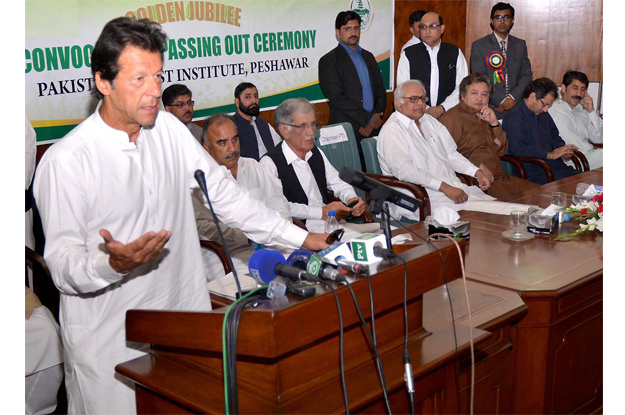 ---
ABBOTABAD/ PESHAWAR: The timer mafia in the country is far more dangerous than offshore companies for the development of Pakistan, said Pakistan Tehreek-e-Insaf (PTI) Chairperson Imran on Monday.

Imran Khan was addressing the event held to commemorate Pakistan Forest Institute, Peshawar's 50th anniversary and kick off the convocation ceremony for four batches of graduates. He claimed the timber mafia was responsible for over Rs200 billion in losses in Khyber-Pakhtunkhwa, mostly due to illegal logging.

"Pakistan is [one of the only countries] greatly affected by climate change," he said. "If we [want to be] sincere to our future generations, we should redress environmental issues and work on climate change." Imran reiterated the government should work on planting trees and banning deforestation throughout the country if it is serious about slowing climate change.

"According to environmental experts, the effect of climate change has caused temperatures to rise in DI Khan. Rain has decreased by 5% in 2015-16."

From Peshawar to Chichawatni

For the sake of posterity, added Imran, the Billion Trees Tsunami project was launched and will benefit future generations. "These trees will not only help the country financially but will be fruitful for climate change."

He said deforestation was not a political issue and the federal government should take it seriously as forests in the country were depleting. Noting massive deforestation in Chichawatni and Changa Manga, Imran deplored the apathetic attitude of the government.

Imran explained the PTI-led K-P government would plant one billion trees within their five-year tenure. His government would give afforestation and environment topmost priority.

Appreciating the efforts of PFI, he praised the institution for being the only one in the country which researches forests. Imran suggested the K-P government give the institute university status.

Echoing Imran's concerns, Adviser to Chief Minister on Environment Ishtiaq Urmar stressed Pakistan was among the top countries most affected by climate changes in the last few years.

Urmar shared around 5,000 privately-run nurseries had been established which provide the Billion Tree Tsunami project with saplings.

PFI Director General Hakim Shah who also addressed the event shared the institute was established after Partition. He said in the last 50 years, PFI had produced 3,200 experts.

According to Chief Minister Pervez Khattak, who was also at the PFI, Rs271 million had been spent in various environmental schemes in 2015-16. He told participants they would allocate Rs396 million in the next budget for environment and forestry.

After 112 years: 3,000 acres of Galiyat forests being surveyed for demarcation 




The government is surveying forest land in Galiyat after 112 years to identify encroached areas. Officials told The Express Tribune, it was likely an anti-encroachment drive would take place after June 30.




According to insiders familiar with the matter, after the government received numerous complaints about encroachments on reserved forest land by politicians, bureaucrats, retired services officers, businessmen and villagers, it decided to get the land geographically demarcated anew. This will identify the exact number of houses, business centres, hotels, shops and houses could be identified as encroachments.

Reclaiming the forest

Three teams of 12 experts from Survey of Pakistan (SoP) have started the process; teams of surveyors are constructing cemented pillars to mark the boundaries. SoP is the national survey and mapping organization which is being paid Rs5.5 million for the Galiyat endeavor; an additional amount of Rs10 million has been allocated for the cemented pillars.

Galies Forest Division has land covering 40,005 acres in which 38,428 acres is reserved forests. In the last three decades, politicians, bureaucrats, businessmen and retired services officers have encroached 3,000 acres, estimates suggest.

Galies DFO Sardar Muhammad Saleem confirmed the encroachment. He said 2,000 to 2,500 acres of land has been illegally used in Galiyat. "Encroachers built houses, hotels and shops. Around 1/4 of Malach village was built on forest land illegally."

Responding to a question, Saleem said in 1876 the demarcation of forests in Galiyat was carried out for the first time and pillars were constructed along the boundaries. In 1904-05, the British installed similar columns but unfortunately during the last 112 years, successive governments failed to control deforestation and the illegal use of forest land. He added as a result, villagers and influential figures spread over large swathes.

In another reply, Saleem said the forest department had complete records, including maps of the forest. With the help of SoP, the department would be in a position to support efforts to reclaim encroached forest land. He said after the SoP survey was submitted, the secretary environment would issue orders to launch an encroachment drive after June 30.

Published in The Express Tribune, April 26th,  2016.
COMMENTS
Comments are moderated and generally will be posted if they are on-topic and not abusive.
For more information, please see our Comments FAQ