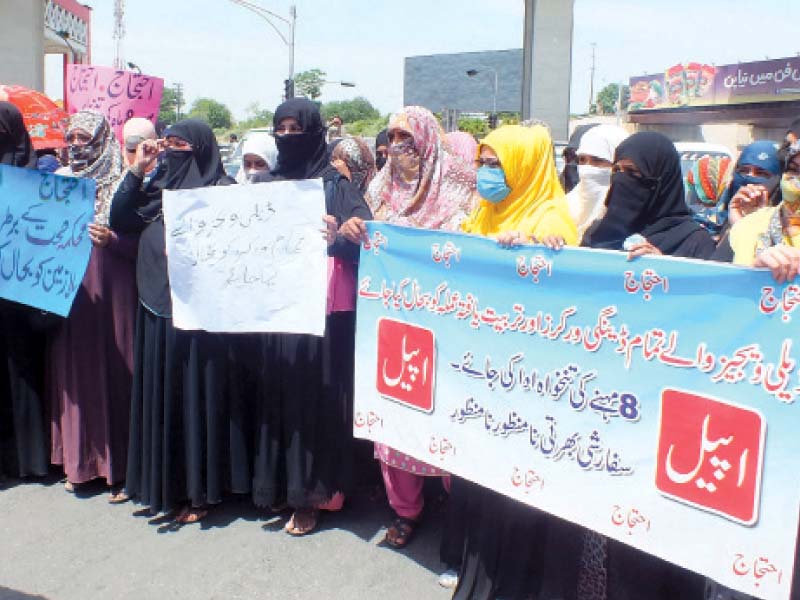 ---
RAWALPINDI:



A large number of daily wagers including women, hired by the district government for its anti-dengue drive, carried out a protest rally against non-payment of salaries and sacking of trained workers, on Monday.




Over 100 daily wagers including women staged a protest demonstration and sit-in outside the office of the district coordination officer (DCO) demanding payment of salaries for the last eight months.

Some of the women protestors sat under the hot sun carrying toddlers in their laps.

The protesters were chanting slogans against the DCO, the executive district officer (EDO) health, the deputy district officer health and other high ups of the district government.

They were holding placards and banners with anti-government slogans written on them.

"Reinstate the trained anti-dengue workers and pay their salaries for the past eight months," the protesters demanded.

They asked the Punjab government not to deny them their livelihood.

Talking to media persons, a senior patrol, Mumraiz said that the government had not paid them salaries, which was a violation of their contract.

He added that the sacking of anti-dengue workers from service was injustice.

"We have been hired with surety of getting permanent jobs after some time but the government cheated us by showing us the door after eight months of work," Mumraiz said.

The health worker said that the workers would boycott the ongoing anti-dengue drive.

Another protester Sabeeqa Javed told media persons that the women workers were forced to protest because their supervisors had turned a blind eye towards their problems.

She said that the women started working for the anti-dengue drive six months ago and had yet to receive any payment from the Punjab government.

Another woman worker said that the government instead of clearing their dues had cancelled their contracts that too without paying the wages.

She said that she took the job to support her family.

The worker said that it was not possible to work without a salary.

"A team of two women workers had to visit 40 to 60 houses every day to monitor the situation of dengue larva and they will have to spend money from their own pockets," another protester said.

The DDO, Dr Amir Sheikh, during an interaction with media persons said that the contract of the daily wagers had ended after 79 days and they were sent home by the district government.

He said that the government would float 200 new vacancies and daily wagers would be given preference in the recruitment.

The health official claimed that the protest by the daily wagers was baseless as the government had transferred their salaries to their bank accounts.

Published in The Express Tribune, April 26th, 2016.
COMMENTS
Comments are moderated and generally will be posted if they are on-topic and not abusive.
For more information, please see our Comments FAQ