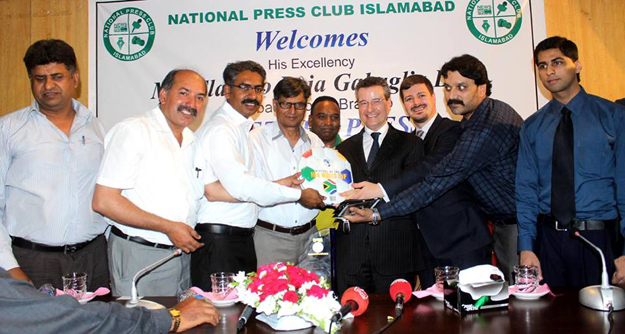 ---
ISLAMABAD:



Brazilian ambassador has supported Pakistan's peace initiatives in the region, especially reconciliation efforts in Afghanistan while acknowledging Islamabad's role in the fight against terrorism.




"The whole international community recognises that," Ambassador Claudio Raja Gabaglia Lins said while Addressing a 'Meet the Press' programme of the National Press Club (NPC) here on Monday.

The ambassador said what Pakistan was doing for peace in Afghanistan along with the US and China was invaluable.

He said Brazil, like any other emerging country, had its share of problems but terrorism was not a major concern in his country. However, he said, for any country, there was much to learn and benefit from Pakistan's experience in fighting terrorism. "Pakistan Army is one of the most capable armies in the world," he said.

The envoy said Brazil and Pakistan were currently working on an agreement for collaboration in defence sector.

Lins said Chief of Army Staff Gen Raheel Sharif was warmly welcomed in Brazil last year.

Later, Embassy of Brazil Deputy Head of Mission Jean-Pierre Bianchi told The Express Tribune that the Brazilian army chief was expected to visit Pakistan next year.

Bilateral trade

The ambassador said that bilateral trade between the two countries stood at $370 million last year. He, however, said that potential in the bilateral trade was enormous.

He also highlighted the need for enhanced interaction between the businesses of the two countries and also the need for establishment of a Pakistan-Brazil business council.

The ambassador said that media in Pakistan was playing an important role. "You are contributing to your society. The press in Pakistan is very dynamic and exemplary for many countries, I can assure you that," said the envoy.

Asked to comment on Panama Leaks, the ambassador said there were very few, if any, people from Brazil mentioned in the papers. However, he said it was important to have strong institutions to deal with such issues.

Rio Olympics

About the Rio Olympics, the ambassador said that preparations were almost complete for the games. He said all Pakistanis who wished to go to the Olympics were welcome, and also wished Pakistani athletes well. "Rio is a beautiful city. It is fully equipped to receive people from around the world."

Regional connectivity

On Kashmir, the Brazilian envoy said his country favours implementation of international laws and a peaceful settlement.

The ambassador said that the whole region, particularly Afghanistan and Pakistan, would benefit a lot from regional connectivity and from infrastructure projects like the China-Pakistan Economic Corridor.

On whether visitors to Rio should be wary of Zika virus, the ambassador said that Zika, like dengue, was a global problem.

"Zika is no reason not to travel to Brazil," said the envoy and added that only pregnant women were advised to avoid travel to Zika-affected countries.

Responding to another question, the ambassador said that people from all faiths co-existed peacefully in Brazil.

"The need for tolerance is everywhere. All sacred books teach tolerance," he said.

Later, NPC President Shakeel Anjum announced to award associate membership of the press club to the envoy and also presented him a memento.

Published in The Express Tribune, April 26th, 2016.
COMMENTS
Comments are moderated and generally will be posted if they are on-topic and not abusive.
For more information, please see our Comments FAQ