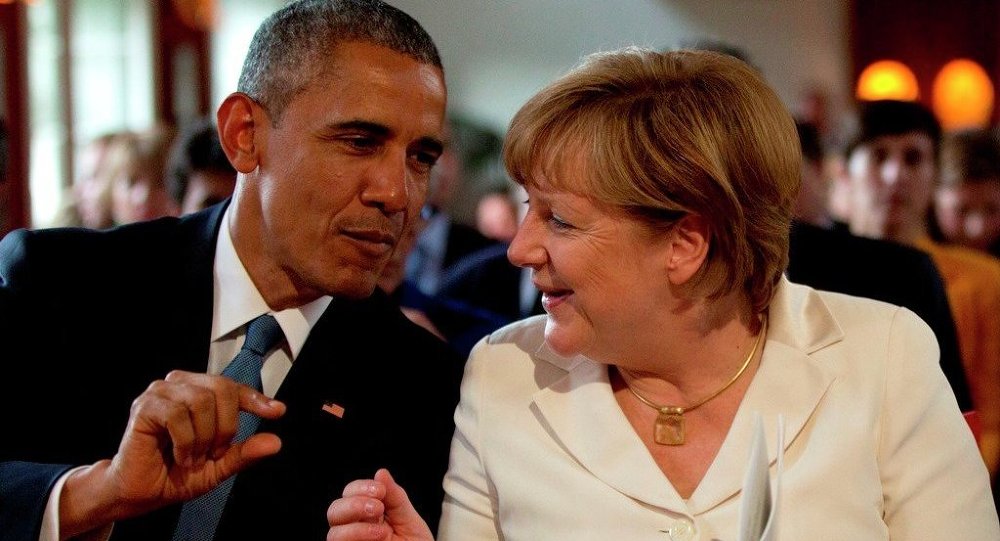 ---
HANOVER, GERMANY: US President Barack Obama on Monday hailed German Chancellor Angela Merkel as being on the "right side of history" with her welcoming refugee policy, although critics denounced his praise as hollow lip service.

Speaking in the northern German city of Hanover, Obama said the embattled Merkel had "demonstrated real political and moral leadership" in letting in more than 1.1 million people fleeing war and misery.

Obama arrives in Germany to push free trade pact with Merkel

"What's happening with respect to her position on refugees here, in Europe, she's on the right side of history on this," he said.

"She is giving voice to the kinds of principles that bring people together rather than divide them."

While the reticent Merkel blushed at the glowing praise, German officials and commentators charged that Obama's administration had done little to help her as Europe struggles with its biggest migrant crisis since World War II.

Influential news weekly Der Spiegel slammed Obama's comments as "hypocritical given the American role in this drama".

Post Brexit UK-US trade deal could take up to a decade, Obama tells BBC

It noted that while 137,000 people had received refugee status in Germany last year, the United States -- whose population is four times greater than Germany's -- had accepted around 70,000.

Obama, who heaped accolades on Merkel again Monday in a landmark speech on transatlantic relations, confirmed in Hanover that the US would take in just 10,000 Syrians this year.

"It is a pity that the chancellor could not turn to (Obama) when she needed help with the refugee crisis," Spiegel wrote on its website.

"Then maybe she would not have needed (Turkish President) Recep Tayyip Erdogan," it said, referring to a highly-controversial deal Merkel brokered with Ankara to stem the flow of Syrian asylum seekers into the EU.

German Foreign Minister Frank-Walter Steinmeier was more diplomatic in expressing a sense of disappointment.

"Of course on the one hand, we are happy to hear Germany being praised for assuming the responsibility we have in tackling the refugee crisis or, shall we say, minimising immediate suffering as hundreds of thousands were on the move last year," he told public broadcaster ARD.

"But of course we would hope for more support around the globe. That is why we are talking to the Americans. We are also talking to the Canadians and the Brazilians."

The strong backing from Obama comes as the conservative chancellor, in power for a decade, has seen support for her Christian Democrats slip to 33 percent -- the lowest level in five years.

Meanwhile, support for the rightwing populist anti-immigration party Alternative for Germany (AfD) has surged to around 14 percent.

There was a time German leaders might have hungered for such praise from a US president, when West Germany during the Cold War was beholden to Washington for its security.

Obama says he hopes he has persuaded British voters not to leave EU

But conservative daily Die Welt indicated that the tables had long since turned, with Washington now looking more to Berlin as the go-to European power for help in the globe's hotspots.

It called Obama's farewell visit to Germany "a sign of respect" for Merkel "who, for the Americans, has become a lonely anchor of stability in a crisis-hit Europe".

Berlin's daily Morgenpost said this shift had been difficult for Germans, who had looked with enormous hope to Obama when he took office in 2009.

"There was euphoria that a new spirit would infuse the European-American relationship," he said.

"Today the boss at the White House is sitting on a pile of shattered illusions. His relationship with Chancellor Merkel has a new sobriety too... In reality the German-American relationship consists of a long to-do list.

"The best defence against disillusionment is scaling back expectations and staying realistic. Anything else would be nostalgia."

For her part, Merkel touted her "friendly, close, trusting cooperation" with Obama but declined invitations by reporters at their joint press conference to share in the exuberance about their seven-year relationship.

"There is no time to take stock," she chided.

"The future with this president is more important at the moment than the past."
COMMENTS
Comments are moderated and generally will be posted if they are on-topic and not abusive.
For more information, please see our Comments FAQ