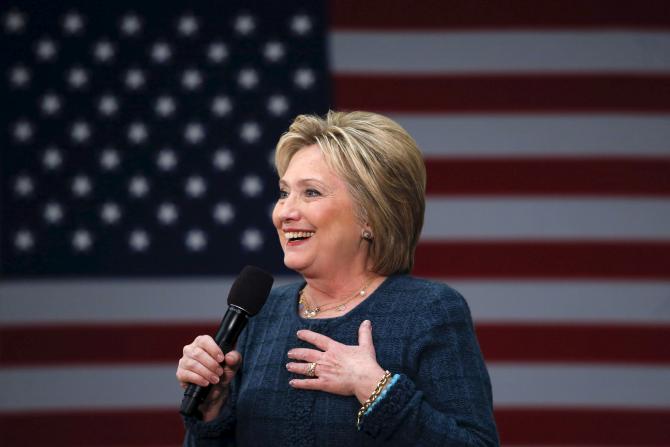 ---
WASHINGTON DC: Bernie Sanders fended off pressure Sunday to bow out of the race for the White House, as his rival, Democratic frontrunner Hillary Clinton, weighs potential runningmates.

The New York Times reported that Clinton's advisers and allies have begun extensive discussions on a potential vice presidential candidate, and are putting together a list of 15 to 20 prospects.

Donald Trump uses Indian accent to mock call centre representative

Clinton has described what sort of person would fit the bill, and has set objectives for the search, the Times said.

And although her options vary depending on who her Republican opponent is and other factors in a still fluid race, she is open to an all-female ticket, advisers told the Times.

Team Clinton has not ruled out for consideration is Senator Elizabeth Warren, a darling of the left who has yet to endorse Clinton, advisers told the Times.

Other names under discussion reportedly include Senators Tim Kaine and Mark Warner of swing-state Virginia, liberal Senator Sherrod Brown of Ohio, another key state and former Massachusetts governor Deval Patrick, a prominent African American politician.

Yet another option would be to go for a young rising star, like New Jersey Senator Corey Booker or San Antonio, Texas Mayor Julian Castro.

"Julian Castro, that's the guy she should pick. He's Hispanic, he's young, he can energize the younger vote. She needs that," said a Clinton supporter at a rallty in Bridgeport, Connecticut.

The preparations were another sign of the Clinton campaign's eagerness to sidestep a stubborn and increasingly acrimonious rivalry with Sanders and to get on with the general campaign.

Can Trump triumph?

"I think that it's expected in a campaign like this one as we get towards the narrow end of the funnel -- we only have 19 primaries left -- it's going to get a little more intense," Democratic National Committee chair Debbie Wasserman Shultz told "Fox News Sunday."

"But we need to make sure that we focus on the end game, which is to obviously make sure that we can elect our nominee president of the United States, which I'm confident that we will."

Clinton has refrained from personally calling on Sanders to quit the race, but her supporters have become increasingly vocal in insisting the Vermont senator has no chance of winning.

"Sanders has run a stunningly strong campaign fueled by passionate supporters. But raising $$ stating you have a path to the nomination is fraud," David Plouffe, who managed President Barack Obama's 2008 campaign and now supports Clinton, tweeted this week.

The candidates face off again on Tuesday in five high-stakes primaries, with Clinton heavily favored to add to her near insurmountable lead in the delegate count.

She currently has 1,941 delegates of the 2,383 needed to win the Democratic nomination, to Sanders's 1,240.

But Sanders, a self-described democratic socialist, insisted he still has a chance to win the nomination.

"I'm not going to tell you that it's easy, but I think we do," he said on CNN's "State of the Union."

"What polls seem to be showing is that in many of the states yet to come, including California, our largest state, we have a real shot to win."

Trump, Clinton aim to seal deal in Tuesday primaries

The Vermont senator has a hugely successful fundraising operation based on small donors and an enthusiastic following among young voters and white working class Americans galvanized by his attacks on income inequality, Wall Street and a political system he believes has been corrupted by big money.

He has drawn blood by attacking Clinton's ties to Wall Street and huge speaking fees she received from big banks.

Sanders noted national polls show he would do better than Clinton against any of the possible Republican nominees.

But if he loses on Tuesday, the pressure on him is bound to grow.

"If we think we've made enough progress, then we'll keep on the path that we're on," Sanders adviser Tad Devine told NPR in an interview published Saturday.

"If we think we have to, you know, take a different way or re-evaluate, you know, we'll do it then."