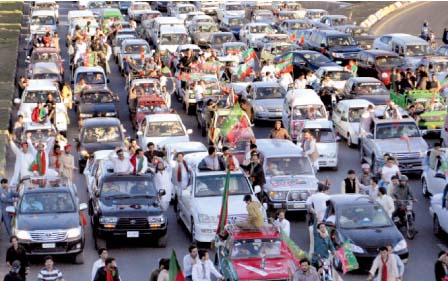 ---
ISLAMABAD:



Gridlock, vehicle, mobile phone and wallet thefts mark the Pakistan Tehreek-e-Insaf (PTI) Foundation Day rally in the capital on Sunday.




For most of the participants the rally was a chance to visit Islamabad. Majority of whom have not seen the federal capital in their life time.

Margalla Police Station officials said that two cars and three motorcycles were stolen from their jurisdiction.

Similarly, I-9 police reported two cars and three motorcycles stolen from their limits.

Nawaz Sharif will have to leave, says Imran

Gridlock was observed on roads surrounding F-9 Park including service road (east) of G-9 and G-10 sectors, Ibn-e-Sina Road, Jinnah Avenue, Nazimud Din Road, and Margalla Avenue.

Residents of the areas adjacent to the park complained of difficulty in commuting throughout the day.

Meanwhile, policemen expressed satisfaction at the overall security situation but said that they had received complaints of mobile phone and wallet thefts, which they were trying to resolve.

Thousands from across Pakistan converged to the F-9 Park to demand social and economic justice, good governance and, above all, a corruption-free society.

Leaders, workers and supporters expressed their urge for an egalitarian society during the rally marking the Pakistan Tehreek-e-Insaf (PTI)'s 20th foundation day.

In his address, party chief Imran Khan reiterated his stance that the prime minister should step down since he had lost the moral authority to govern, with the outing of names of his family members in the "Panama Papers".

Participants expressed their anger at financial corruption by the political elite.

Participants included a large number of party supporters who had come from Khyber-Pakhtunkhwa (K-P), and different cities of the Punjab.

The rally comprised predominantly of youth, but a number of families were also in attendance. "We want a better tomorrow for our children," said Javed Khan and his wife, residents of F-8 who had brought their six-year-old son, Arman and five-year-old daughter, Alina.

"We support Imran Khan because only the PTI can bring change in Pakistan," said Abdul Ghafoor, who appeared to be in his 60s and was dressed in traditional dhoti-kurta. He along with his three friends had come from the Chakwal.

Imran Khan sees Panama Papers as second chance to oust PM

They said that they wished to see a better life for the generations to come.

Rehmanullah, 28, a wheelchair-bound participant who earns a living by selling watches and glasses, said that he had witnessed change at different levels, especially in hospitals in his hometown, Nowshera.

Rehman, who has no formal education, said that he would continue to support the PTI, so that no one else was denied an opportunity to get an education.

Two other participants, Naveed Hussain and Shaheena Kausar, said that they came from Lahore because "Imran Khan is credible and he has a powerful anti-corruption agency."

"Accountability should begin from the top," Hussain said. "How can the prime minister stop a policeman or anyone else from corruption, when his own family is accused of the same?" Kausar asked.

Four Sheikhupura-based participants of the rally said that they would continue to support the PTI as long as Imran Khan stayed away from corruption.

"We won't spare Imran Khan too, if he was found involved in corruption," said one, adding their struggle was for a better Pakistan, not just for a person or a party.

The PTI leadership also ensured adherence to written assurance given to the ICT Administration regarding traffic plan and rally timings.

Published in The Express Tribune, April 25th,  2016.
COMMENTS (2)
Comments are moderated and generally will be posted if they are on-topic and not abusive.
For more information, please see our Comments FAQ