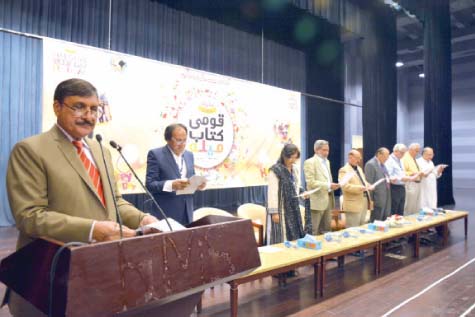 ---
ISLAMABAD:



A three-day book festival concluded here on Sunday with a pledge from eminent writers, poets, and academics to promote book reading culture, tolerance, peace.




They also took an oath to remain committed to the books and use their pen for promoting pluralism, diversity, human and democratic values.

They also urged the government to take steps on a priority basis for the promotion of book reading.

"Prosperity, progress, and peace can be achieved through the close attachment to books," Adviser to Prime Minister on National History and Literary Heritage Division Irfan Siddique said while addressing as chief guest at the concluding ceremony of the seventh National Book Day Festival at the Pak-China Friendship Centre here on Sunday.

The adviser said books inculcate the habit of tolerance and enhance the high power of thinking, enlighten our path and leads us to prosperity, peace and progress," he said.

The three-day festival – a brainchild and initiative of noted short-story writer Mazharul Islam when he was managing director of the NBF some seven years ago --  had a number of sessions, segments, and programmes.

Dialogue

The teaching of topics related to fundamental rights and constitutionalism should be included in all tiers of education, speakers at a dialogue, 'Teaching of Fundamental Rights in Pakistan', agreed on Sunday.

The dialogue was organised by Inter-University Consortium for Promotion of Social Sciences Pakistan and NBF.

Speaking at the event, Centre for Civic Education Pakistan (CCEP) Executive Director Zafarullah Khan said, "We need to include idiom of rights and constitutionalism in the textbooks and make them part of our educational sociology, [as] graduates with rights-based vocabularies will be better citizens."

He also recommended that the promotion of education on fundamental rights should be done through research, deliberations, debates, and discussions in university campuses.

Speakers also said that civic education was vital to inculcate the values of active and responsible citizenship among students, and should be included in curricula too.

Prof Ihsan Ali, the Vice-Chancellor, Abdul Wali Khan University, Mardan, termed the 18th Amendment a landmark step in the constitutional history.

He announced that a number of activities along with National conference would be organized to promote fundamental rights education among university students.

Book launch

An Urdu fiction novel, written by educationist Prof Shahid Siddiqui was also launched at the book fair.

The writer has presented a story of an ideal teacher and suggested a better mood of teaching through his skilful writing in a most impressive way.

"He has linked education with society while highlighting characters of teacher and a student, with some beautiful description and phrases," said eminent writers and poets Prof Fateh Muhammad Malik, Muhammad Hameed Shahid and Dr Sughra Sadaf while commenting on the novel.

The writer has emphasized the need for keeping up human values in the educational pursuits.

He has also explained what qualities a teacher should possess while communicating with his students, they said adding the novel gives positive and inspiring feelings to its readers.

Published in The Express Tribune, April 25th,  2016.