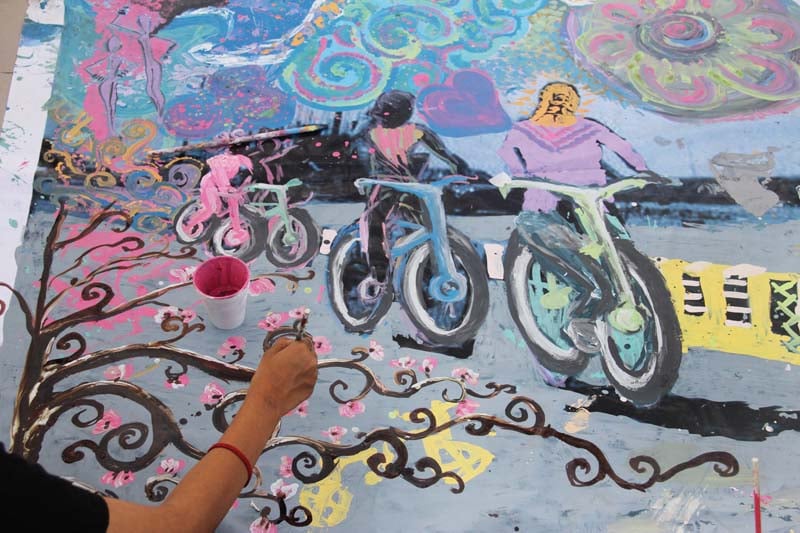 ---
KARACHI:



If we leave the country then who will clean it, asked a Hindu man when photographer Madiha Aijaz asked him about leaving the country.




Aijaz shared the snippet of her conversation with Krishan Lal while speaking about her experience of documenting Hindu devotional spaces in the city while speaking at the session titled 'Four Cameras of Karachi' on the last day of Karachi Creative Festival 2016.

One of her favourite moments was photographing the garbah at the passport office. "The music would stop but the people would not stop dancing," she remarked.

Her photographs were being shown on the projector, while Aijaz read out her field notes relating to those moments. She took viewers on a journey from the streets of Ranchore Lines to Steel Town.

"Karachi carries fires in its bosom, which reaches out every now and then," she said while speaking about the spirit of Good Samaritan in the city.

Gendered spaces

Documentary photographer Naila Mahmood shared her experience of "working in the city and with the city." She works on issues relating to social rights and human vulnerability in gendered spaces. "In a city of 20 million, I photograph small fragments of society that have sociological layers," she added.

She focused on telling stories of home-based workers and their struggles.

Mahmood showed a glimpse into the life of Rukhsana, a Bengali worker who cannot avail formal employment due to lack of citizenship status. "According to NADRA, Bengalis are illegal aliens," said Mahmood.

Abandoned spaces

A different side of the city was portrayed by photographer Farooq Soomro, who takes pictures of the abandoned spaces. He showed the audience deteriorating conditions of historical spaces such as Ratan Talao gurdwara, "fit for a king" Principal's Bungalow of DJ Science College, Mitharam hostel, Sevakunj Hostel and Radio Pakistan's head office.

Soomro also reaches out to old residents and asks them about their experience. A man who grew up in Aram Bagh shared his memories of how a religious figure would chase him with a stick and confiscate his kunchay (marbles). "Karachi is aging like a good wine, I regretfully conclude that Karachi has aged," read the mail the man wrote to Soomro.

Natural economy

Photographer Danial Shah leans towards innovative ways people use their surroundings. He shared pictures of the three binoculars kept at Manora Island, allowing people to see the other side of the sea, glacier coolers of Naran and the boating community of Attabad Lake.

Published in The Express Tribune, April 25th,  2016.